One of the best ways to spend your time is doing something that you love. Whether it be painting, drawing or crocheting, no one can deny the therapeutic energies that comes from these activities. So what are you waiting for??
Are you looking for a little something to brighten up your day to day routine? There is nothing that will accomplish this better than tapping into your creative side with these beautiful flower crochet projects. Everything from simple quick lilacs to more complex never-ending wild flowers, this list has something for everyone on it! Nothing like fully tapping into your creative side and grabbing that yarn to fully commit to showing the world what you can do! Or, at the very least, show your television as you binge watch the latest fad on Disney+. Might as well fill those hours you're already going to spend in front of the TV working on some of these unique and easy flowers!!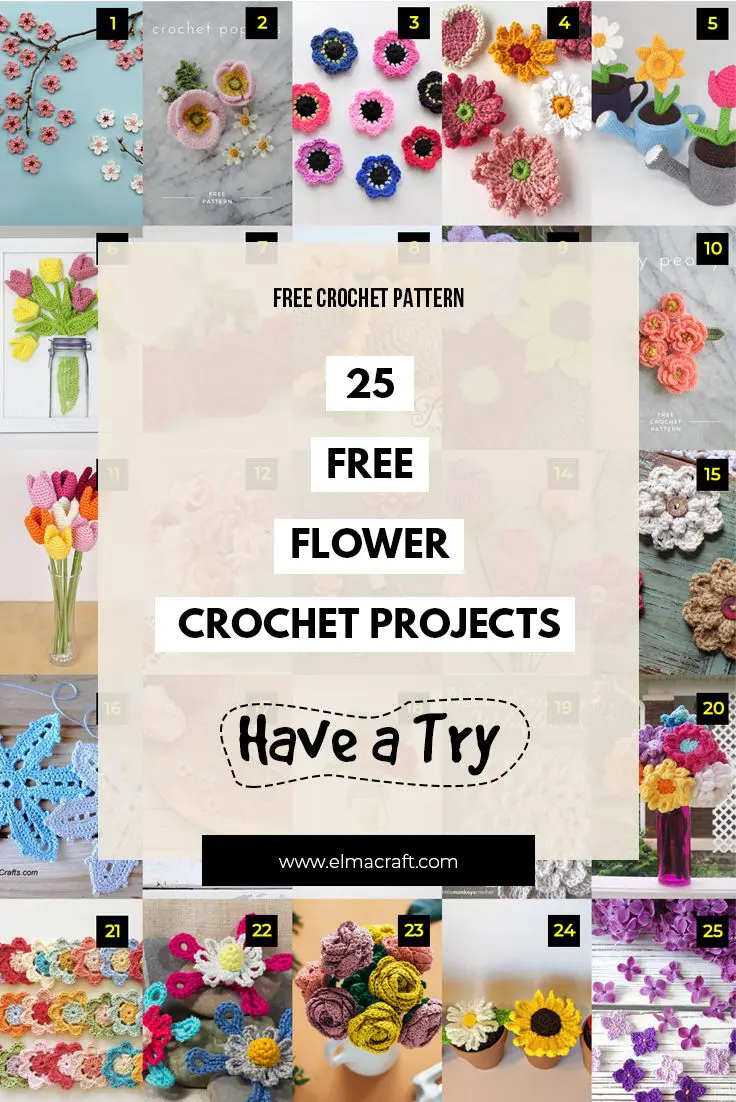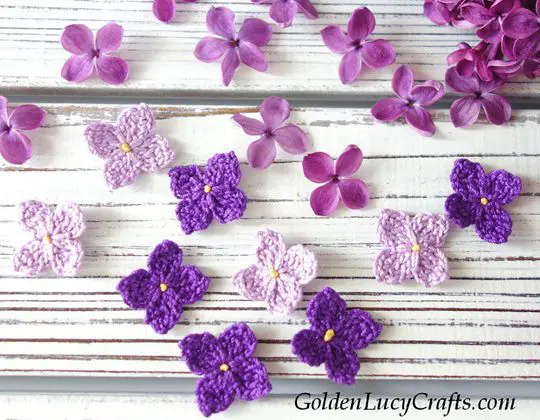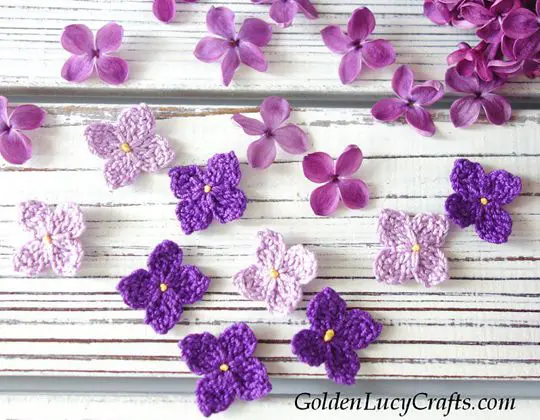 These beautiful lilacs are just the right size to spice up a sweater or scarf and are easy enough that it will only take a few moments of your time to make! And they're the size of actual lilac flowers, isn't that just the cutest?
Designer : Olena
Pattern Here: Crochet Lilac Flowers
24
Potted Crochet Flowers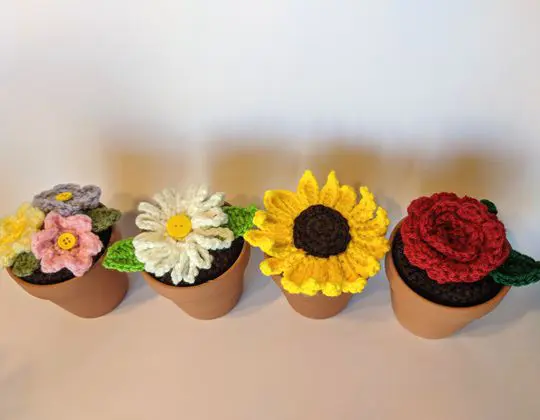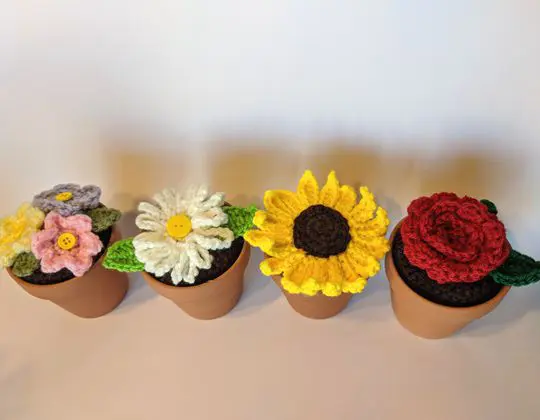 For those of us who wish we had a green thumb, I have these beautiful potted plants. This is actually four different patterns, teaching you how to make several unique potted flowers. Scatter these masterpieces around your home to show your true style! Go ahead and give them out as gifts – people will be impressed and thankful for the handmade gift!
Designer : To Craft A Home
Pattern Here: Potted Crochet Flowers
23
CROCHET FLOWER BOUQUET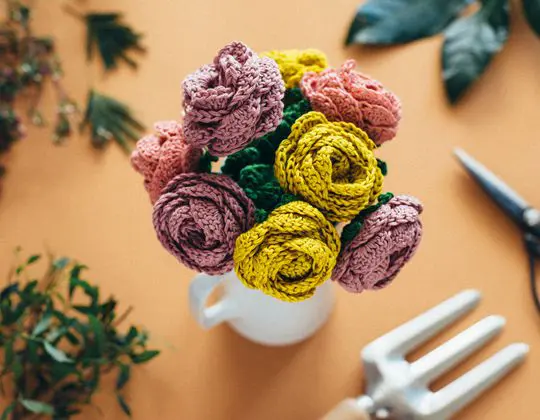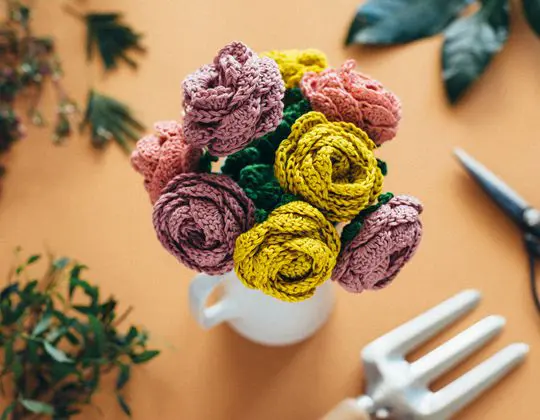 Are you looking for the perfect gift to give to someone that you love? There is nothing more genuine than a vase full of flowers. Now how about a bouquet that will never wither? That is a gift that will last a life time! These are sure to make the heart of any loved one fill with unadulterated joy!
Designer : commonthread
Pattern Here: CROCHET FLOWER BOUQUET
22
Futuristic Crochet Flower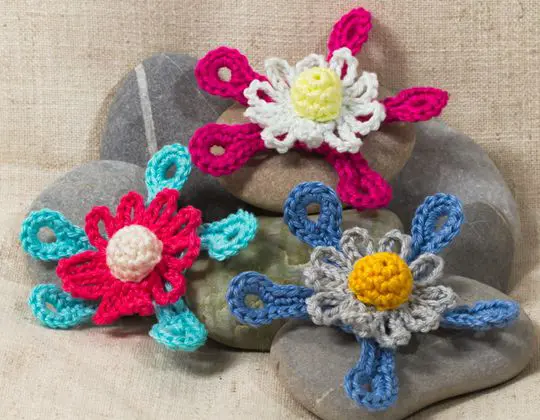 These little funky flowers are sure the catch the eye of anyone who chances upon them! Whether using them as a statement piece by themselves or to tie together a scarf that you felt just wasn't quite right, they're perfect for any occasion.
Designer : Carmen Rosemann
Pattern Here: Futuristic Crochet Flower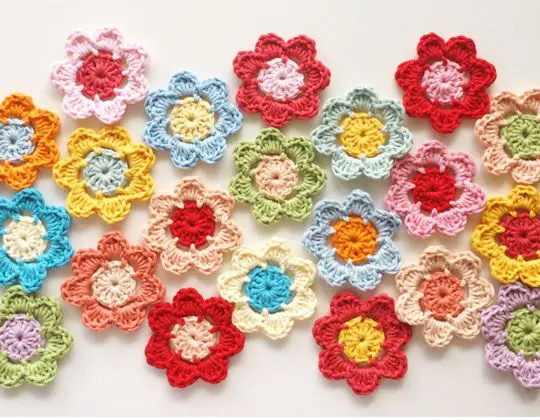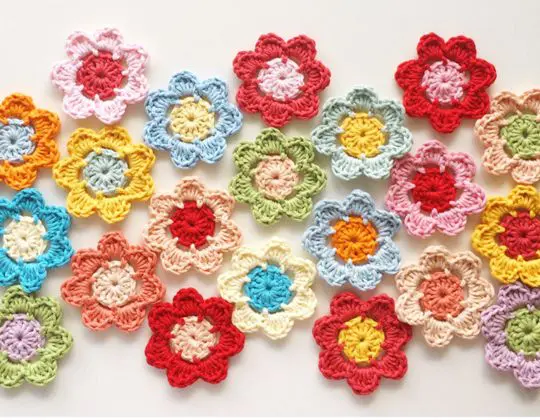 If you're looking for a super simple to start your flower crocheting adventures, then this is the one for you. The author of this article takes you step by step through how to create and join these flowers together to either make something simple and beautiful or complex and stunning. Go and fulfill your wildest multicolored crocheted flower dreams!
Designer : Carmen Rosemann
Pattern Here: Easy Peasy Flower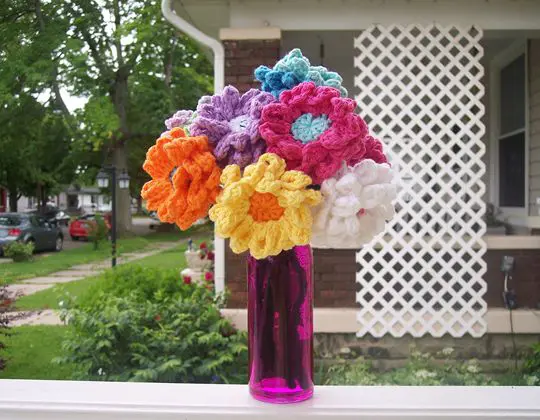 Another bouquet with a much more whimsical stylization, this is sure to make any loved one squeal with joy! This one also includes instructions on how the creator made the stems! Even if these may look a little complicated, in all seriousness they are much easier than they look.
Designer : Corina Gray
Pattern Here: Flowers for Momma
19
The Never Ending Wildflower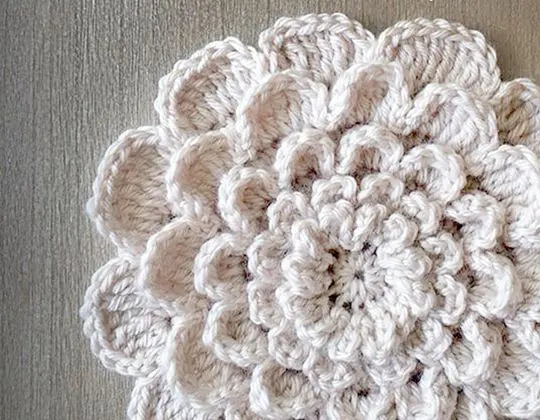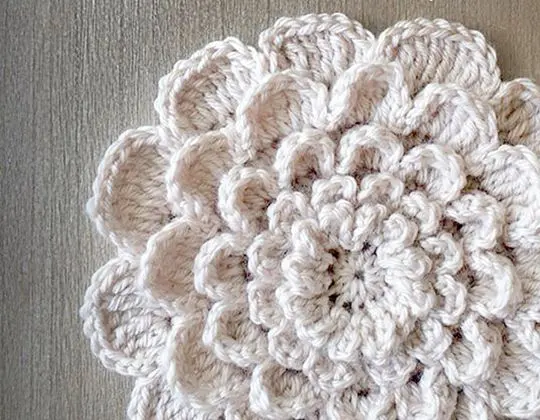 This beautiful flower is one that is sure to knock the socks off of anyone who gets close enough to look at the details. It's beautiful in it's own special way, given that this pattern doesn't take gauge into consideration – you can make the flower as large or as small as you like and it will still be just as beautiful!
Designer : little monkey scrochet
Pattern Here: The Never Ending Wildflower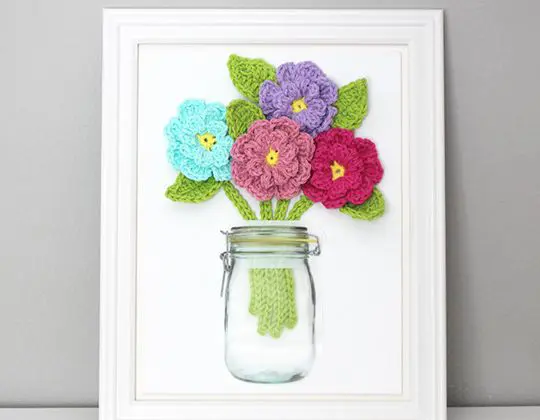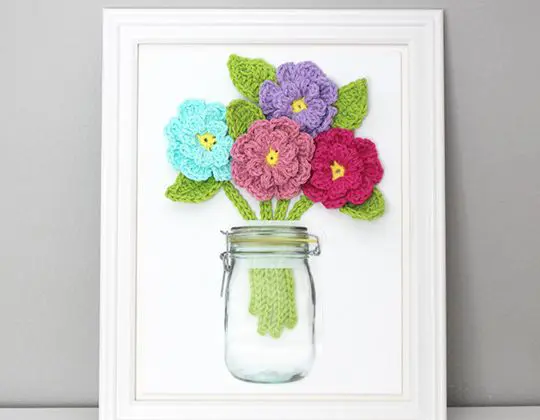 A unique take on the idea of crocheting flowers, this statement piece of a project is an eye catcher to say the least. Very simple, easy to navigate and with an outcome as beautiful as these flowers? You can't go wrong!
Designer : Repeat Crafter Me
Pattern Here: Flowers On Canvas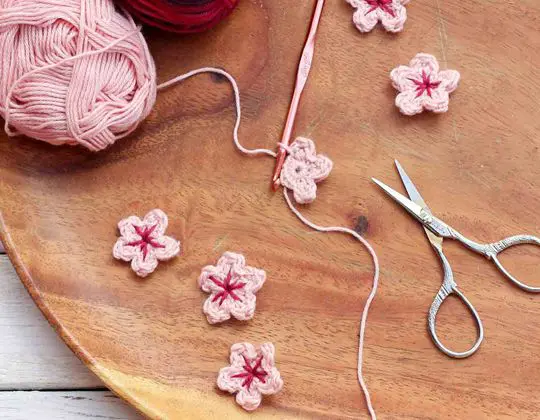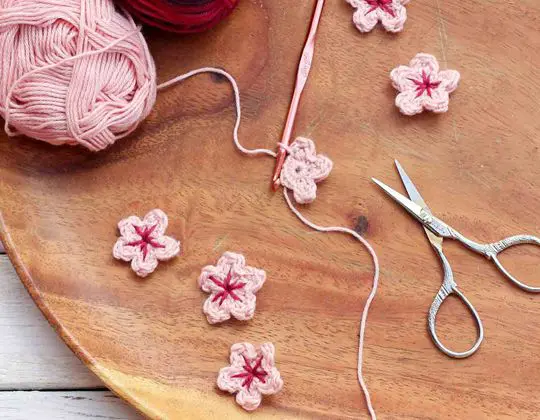 Do you love Cherry Blossoms as much as I do?? If your answer is yes, then this is the crochet pattern for you. Such a soft pink flower with a beautiful meaning behind it. Since it is a basic flower pattern, you could easily change up the yarn choice and colors to make a plethora of other flowers!
Designer : Make and Do Crew
Pattern Here: CHERRY BLOSSOM FLOWER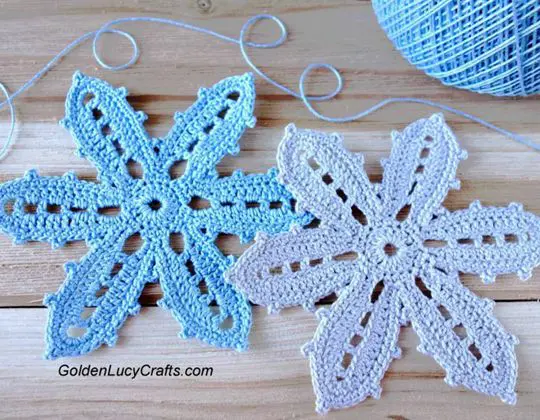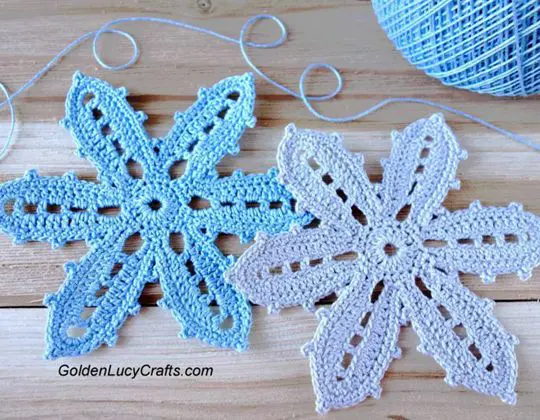 These. Are. GORGEOUS. Be all, end all, these flowers are one of the most beautiful projects I have seen. With a complex look to them and a very basic crochet pattern you're going to be turning heads and impressing even the most educated of crochet heads with these beauties.
Designer : Olena
Pattern Here: Irish Crochet Flower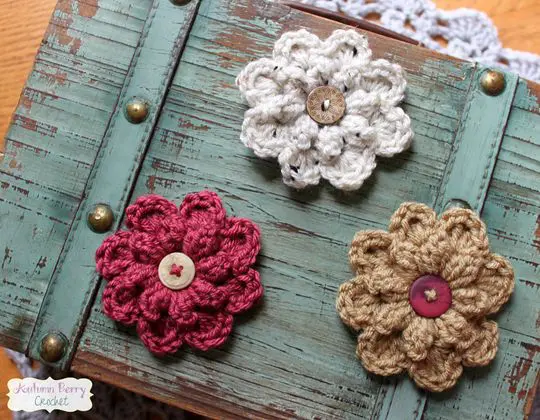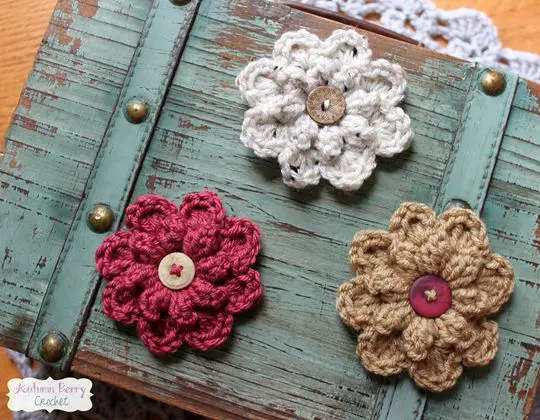 This pattern is perfect if you want to add a bit of color or texture to scarves or hats! It is a very versatile pattern in the way that you can easily switch up the colors to get a plethora of looks out of such a simple design!
Designer : Jenny Dickens
Pattern Here: Autumn Berry Flower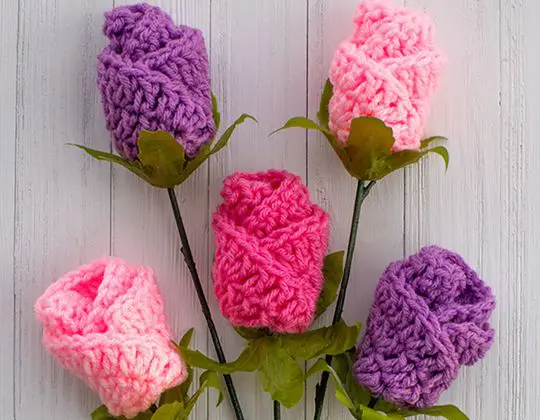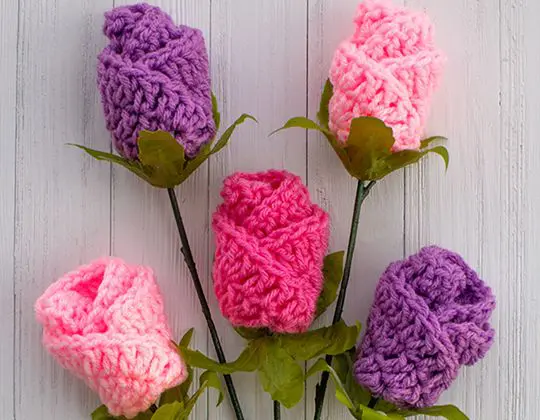 This one is nice enough to come with both a written pattern and a video – so if you're more of a visual learner check this one out! A different look than the other flower patterns that we have seen today, so this is one that will definitely mix things up!
Designer : Naztazia
Pattern Here: Simple Origami Rose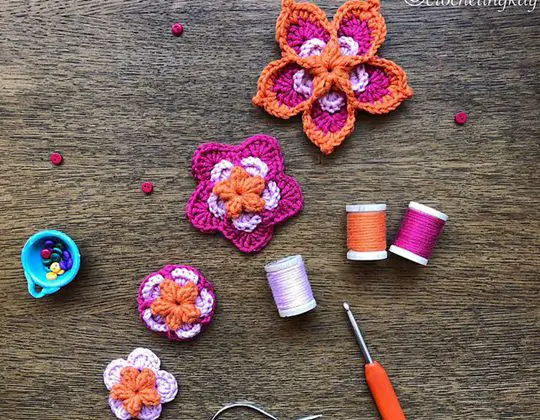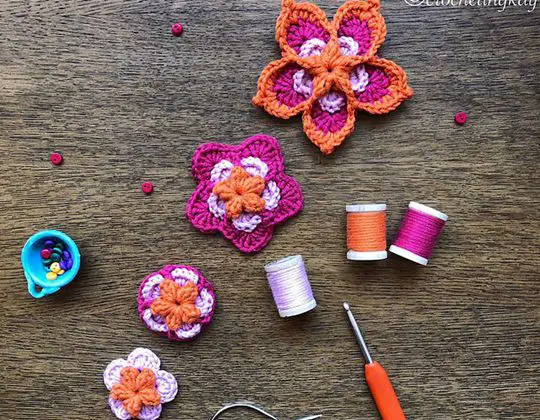 The Fab5Flower lives up to it's name, actually consisting of five separate flowers. I know what you're thinking, that sounds a little overwhelming, but I promise you that it is not. The author of this project takes you step by step with guiding pictures to make sure that you keep up every step of the way.
Designer : Tess & Kay
Pattern Here: The Fab 5 Flower
12
Bouquet of Carnation Flowers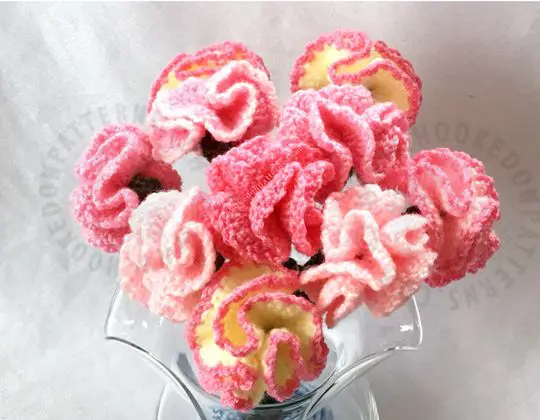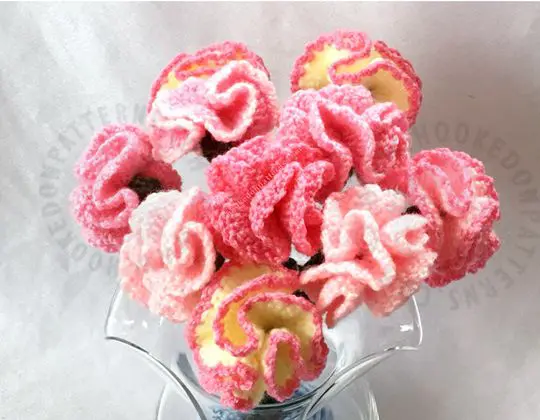 Carnations, a flower of love and good luck, each color representing something that no other carnation can properly capture. If you want to show a loved one exactly how much they mean to you, a bouquet of carnations is exactly what they need. Especially one that will remain as true and as pure as your love for them.
Designer : Hooked on Patterns
Pattern Here: Bouquet of Carnation Flowers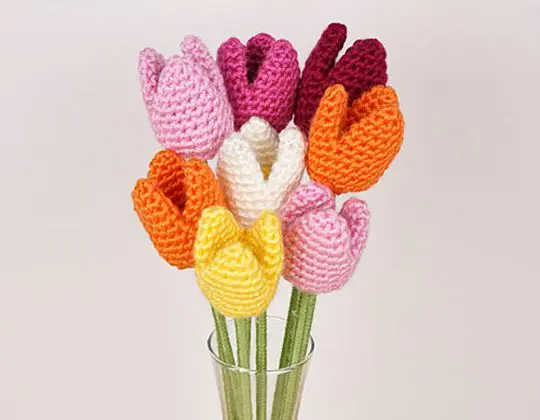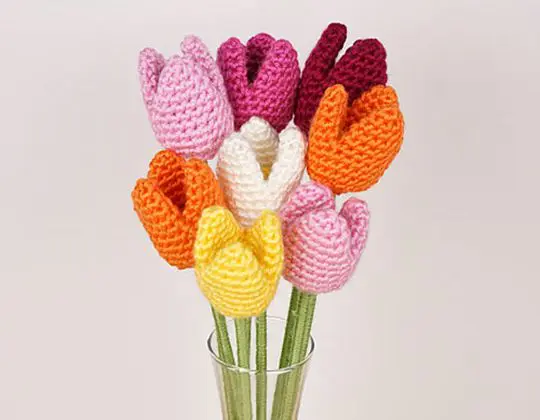 Ageless and beautiful, tulips are referenced in literature from the oldest of tombs to poems by Sylvia Plath and no one can deny exactly how beautiful they are. This translates well into this crochet pattern, each tulip made being on that will be treasured.
Designer : PlanetJune Craft Blog
Pattern Here: Tulips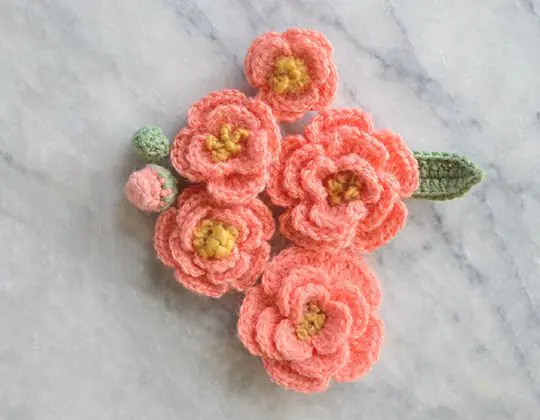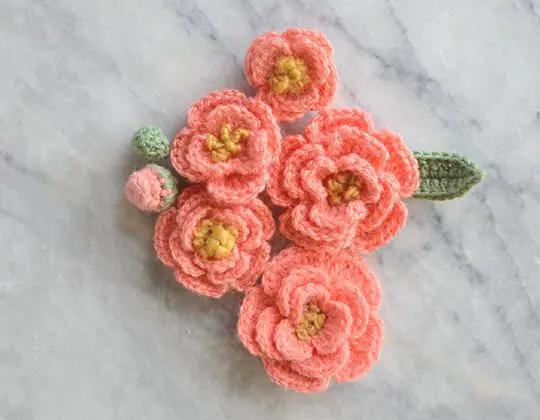 This pattern takes you through the entire growth cycle of a peony, showing you how to make the leaves, the bud, the smaller flower and then the full-grown peony. There is something strikingly serine about being able to go through all of the life steps of the flower and attaching them together into a cohesive piece.
Designer : picotpals
Pattern Here: Tiny Peony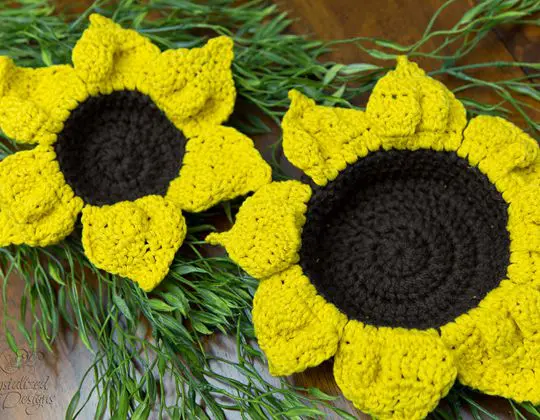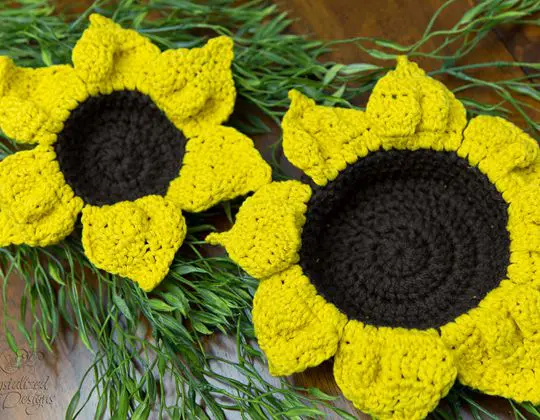 These beautiful flower power nesting bowls are just the right thing to give any flower fanatic – even if that fanatic is you! They will brighten up any living space with their gorgeous petals and eye-catching design. If you have someone in your life that loves flowers, they NEED this!
Designer : Crystal
Pattern Here: Flower Nesting Bowls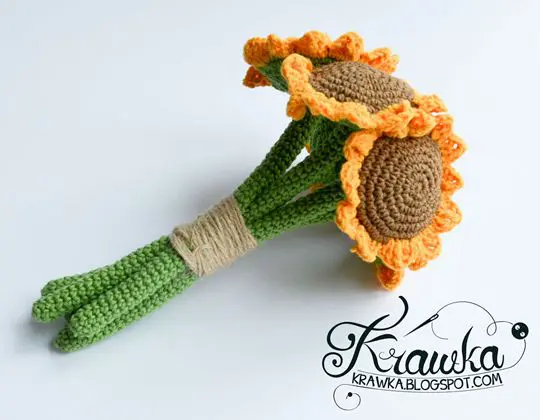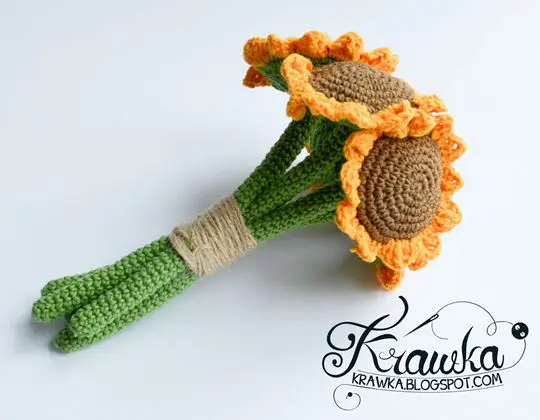 Sunflowers universally brighten up the mood of anyone who sees them. It's just fact! So, what could be better than a crocheted bouquet of sunflowers?? I think the answer that you're looking for is nothing. This is a simple pattern with a beautiful result!
Designer : Krawka
Pattern Here: Sunflower Bouquet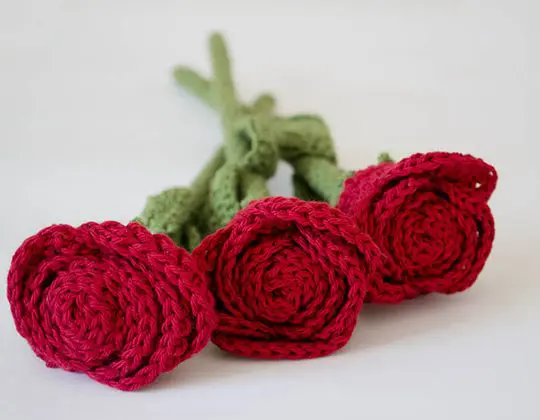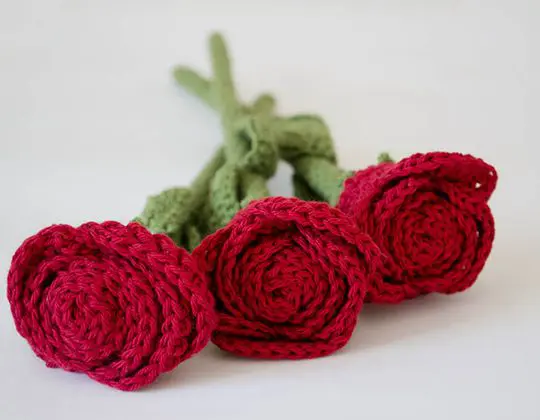 The symbol for love is here with us today, taking the form of a beautiful trio of roses. Whether you are looking for the perfect gift for Valentine's Day or just looking to give someone you love something to show it, these roses are the pattern that you've been searching for.
Designer : Pysselkiisen
Pattern Here: Roses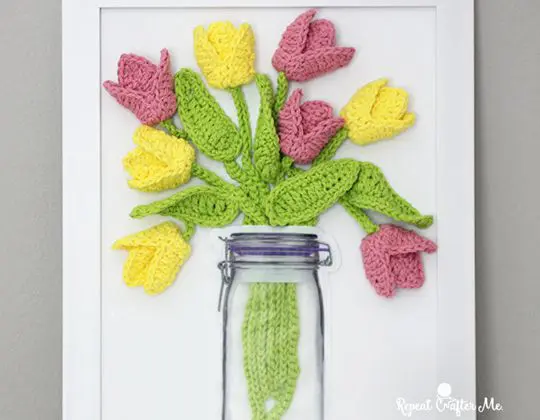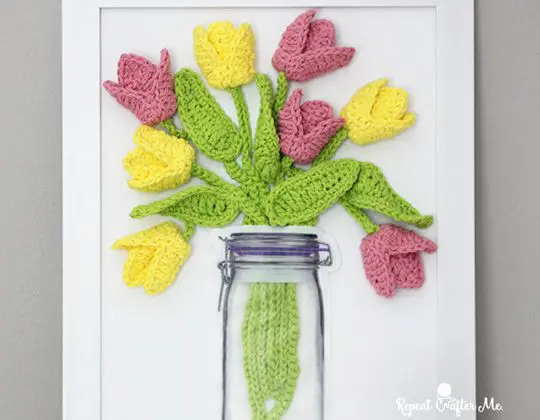 This pattern is much like the pattern above that was in a vase – only with tulips! Who doesn't love a little switch up with the flowers? This beautiful design is sure to wow those who receive it and it is a wonderful statement piece that can easily match any décor.
Designer : Repeat Crafter Me
Pattern Here: Tulips on Canvas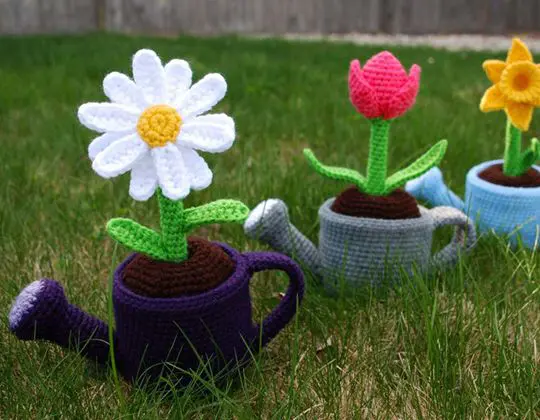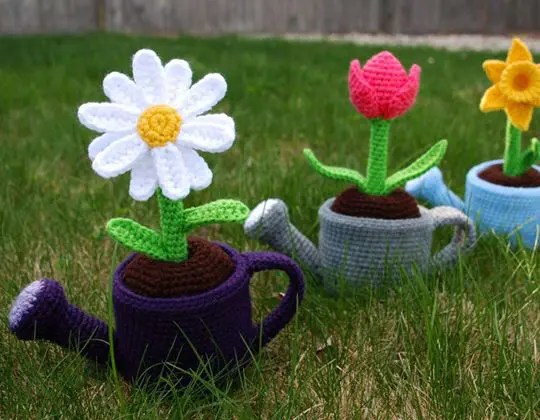 You want to talk about cute – these are A D O R A B L E!!! They are so different and so fun! From the name to the little watering cans, they are perfect for the spring fever that is sure to be hitting us any day now!
Designer : Brenna Eaves
Pattern Here: May Flowers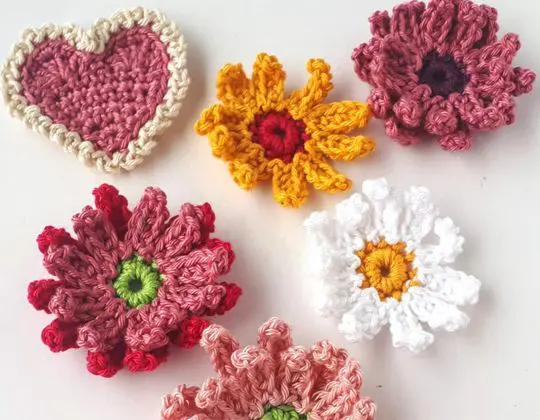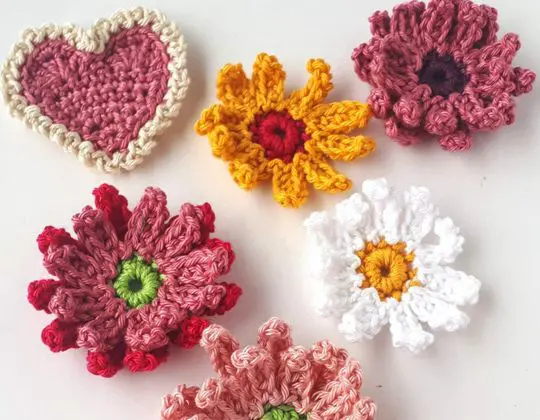 These unique pieces are easily one of the most versatile in the lot! They're very eye catching and even have instructions on how to turn these breath-taking flowers into clips for your hair! Talk about a win-win situation! If you're looking for an easy gift for anyone that loves hair accessories and flowers, then you are in luck today.
Designer : Annie Design Crochet
Pattern Here: Gerbera Flowers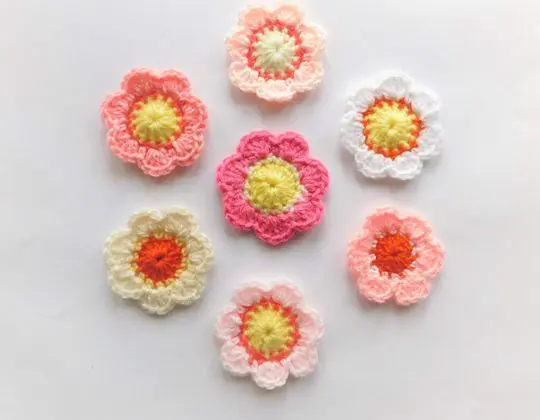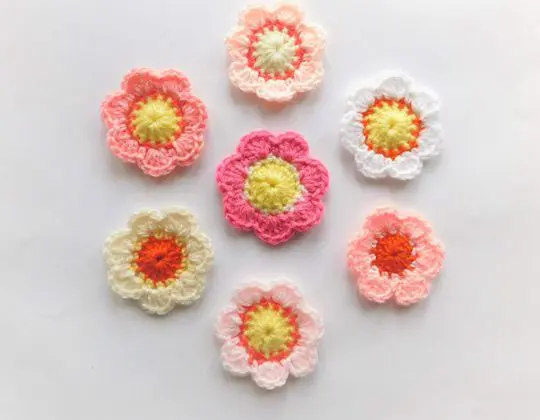 These beautiful flowers are one of a kind, offering a different kind of ambiance to the idea of crocheted flowers. From the rich colors to the easy pattern, this article is one that can be used to make just about any kind of flower/color combination.
Designer : Marianna's Lazy Daisy Days
Pattern Here: Spring Bouquet Flowers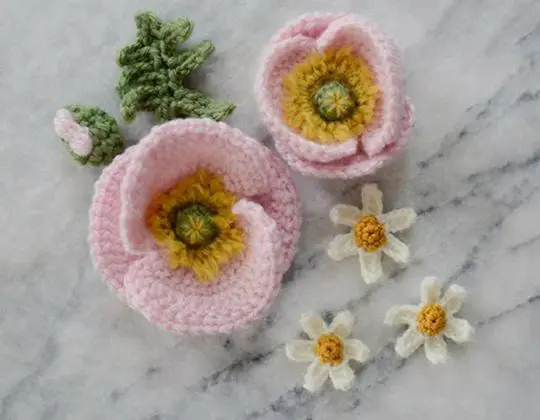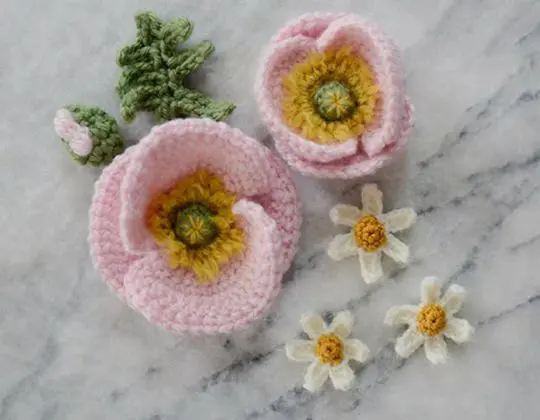 These are beyond gorgeous. They're rich contrast really holds true when comparing it to the flower that these were based off of. Not to mention the beauty of the petals enveloping within the folds of crochet – it is such a simple pattern but looking at it objectively, without knowing what the pattern looked like, these seem very complicated and harder to complete than they actually are.
Designer : Picotpals
Pattern Here: Iceland Poppy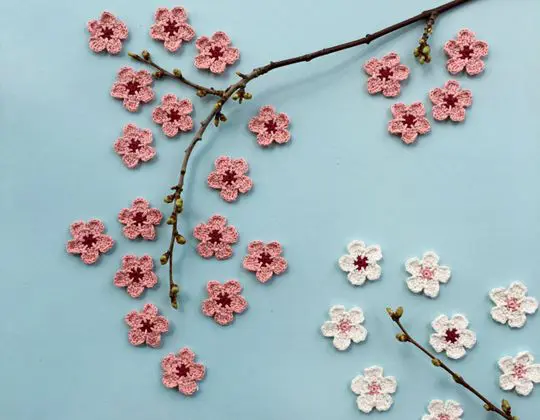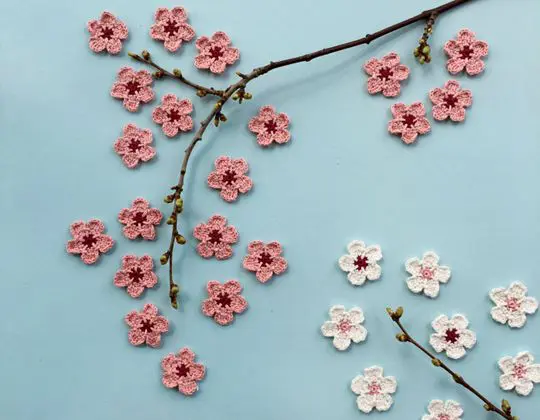 Another version of the cherry blossom, this pattern is much sturdier. The pattern before this one was playing on the delicate nature of the cherry blossom flowers while this one focuses more on the beauty and stability they have to offer. They are true to the colors of the cherry blossom tree – beautiful and full of life.
Designer : In the Yarn Garden
Pattern Here: Cherry Blossom
---