Anyone can see why pocket shawls are taking the crochet world by storm. They are cozy and warm, they are so stinking cute and the big pockets can hold everything a girl needs. Pocket shawls are also really versatile and can be worn dressed down for a casual and comfy look or dressed up for a more elegant and refined look. Seriously, they can do both and they do both really really well. See for yourself!

1
Crochet Shawl with Pockets
Acrylic and wool yarn make this cozy pocket shawl extra warm and snuggly. Basic single crochet, half double crochet and double crochet stitches are elevated by working some stitches in the back loops only or around the post. This creates the lovely ridges you see.
Designer : Crochet with Carrie
Pattern Here: Crochet Shawl with Pockets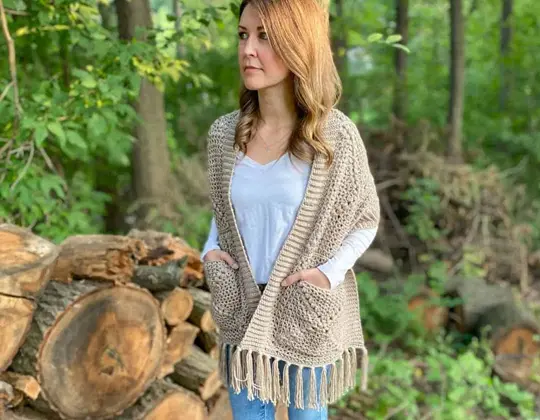 You can't tell at first glance, but this fringed pocket shawl is actually made using granny squares. The neutral monochrome, the textured v-stitches and puff stitches, and the wide ribbed edging all help this shawl stand out from the crowd.
Designer : Stitching Together
Pattern Here: Pine Gap Pocket Shawl
3
Amazing Grace Pocket Shawl
This design is part of a series to raise more awareness about breast cancer. I love this scalloped edge pocket shawl in its original soft pink color. It is so feminine and light. What a wonderful tribute.
Designer : Beatrice Yarn Designs
Pattern Here: Amazing Grace Pocket Shawl
4
Lazy Diamond Boho Pocket Shawl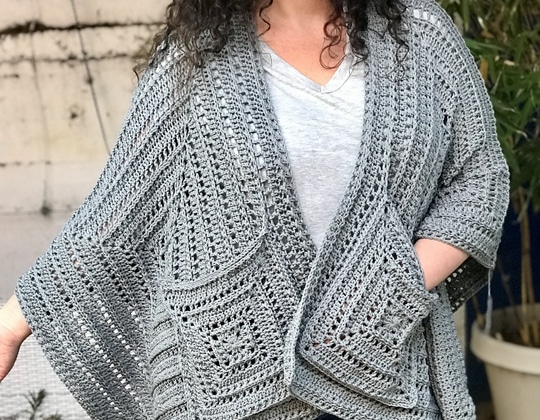 You can choose to follow a right-handed or left-handed video tutorial for this oversized diamond pocket shawl. This shawl has more coverage than most of the ones on this list but still remains light and drapey thanks to the lace effect every other row.
Designer : Jolie Knots
Pattern Here: Lazy Diamond Boho Pocket Shawl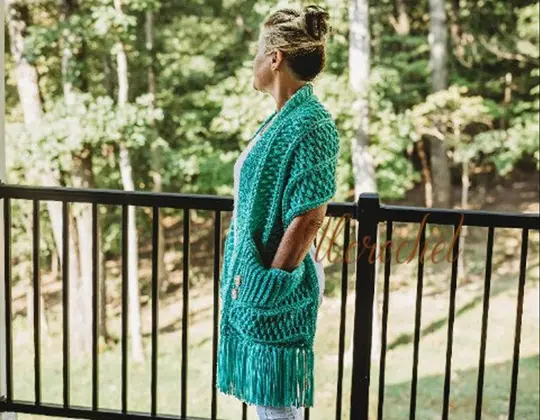 Etsy reviewers are raving over this boho pocket shawl. Rich textured stitches take a back seat to a nicely detailed pocket complete with asymmetrical cuff and a button. Talk about a show stopper!
Designer : tldotcrochet
Pattern Here: Turnberry Pocket Scarf
6
Basic Butterfly Pocket Shawl
Humble half double crochet and double crochet stitches really shine in this lovely butterfly pocket shawl. I really like the multicolor yarn the designer chose for this project. It goes so well with the dainty lace butterflies!
Designer : Moonlight Bee Designs
Pattern Here: Basic Butterfly Pocket Shawl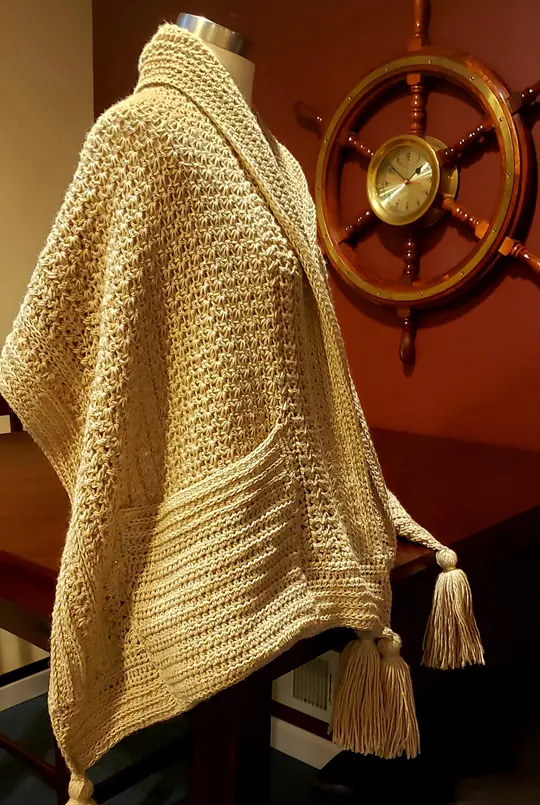 Hello tassels! This elegant pocket wrap uses star stitches and crossed double crochet stitches to add texture and interest to a neutral monochrome color. Needless to say, this pocket wrap is going to go well with everything you've got in your closet.
Designer : Merri Purdy
Pattern Here: Friendship Pocket Wrap
8
Pebble Creek Pocket Scarf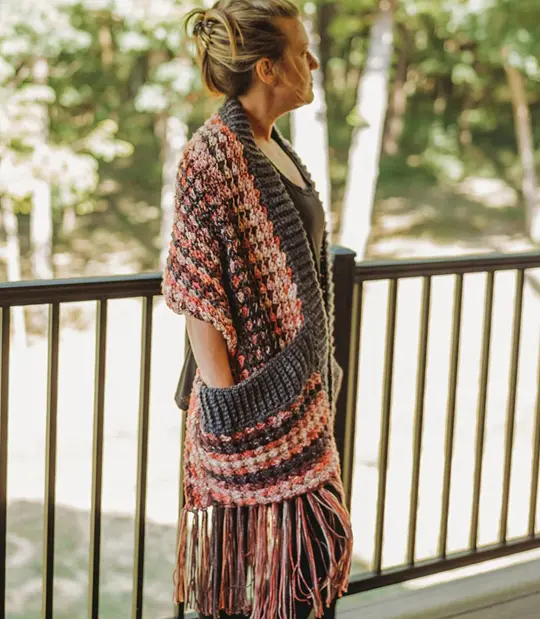 Go big or go home with this extra textured pocket shawl. When you wear this, every eye in the room will be on you. I love the bold color choices, the wide contrasting edging and the extra-long fringe. Everything about this pocket scarf is extra and I'm here for it!
Designer : tldotcrochet
Pattern Here: Pebble Creek Pocket Scarf
Super bulky yarn and a big ol' crochet hook will help you make fast work of this basic pocket scarf. Single crochet stitches worked in the front loops only make lovely ridges between the vertical rows and the horizontal lines of the pockets are offset nicely.
Designer : All About Ami
Pattern Here: The Willow Scarf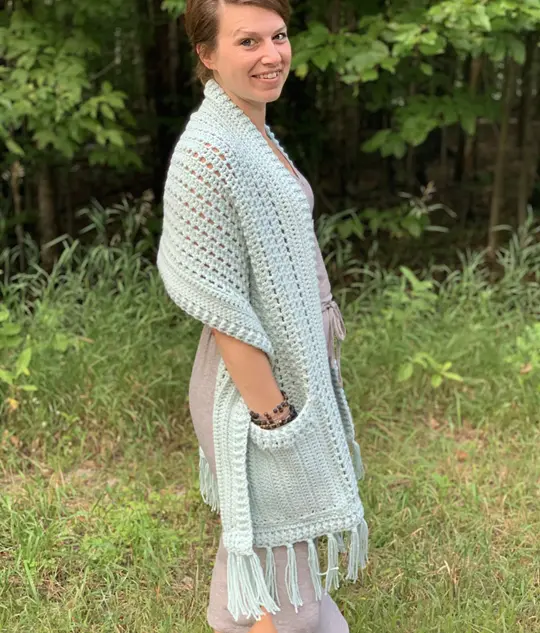 This basic wrap pattern is very beginner friendly and only uses basic stitches for the main scarf. You can give yourself a challenge with the front and back post double crochets used to create the textured border.
Designer : CarleiFlo
Pattern Here: The Gotto Godda Wrap
11
Perfectly Pretty Pocket Shawl
Easy v-stitches make up the main part of this lovely pocket shawl. Simple half double crochet stitches are used for the pockets, which are stitches on afterwards. This is a very basic pattern that can be customized to suit your needs.
Designer : Selina Veronique
Pattern Here: Perfectly Pretty Pocket Shawl
12
Magnolia Summer Cardigan
This lightweight pocket cardigan will help you effortlessly transition from a lazy day at home to a nighttime bonfire. It looks like a more traditional pocket shawl from the front but if you look at the back it's actually a full-on cardigan with a very generous length. Hello leggings!
Designer : Knotted Nest
Pattern Here: Magnolia Summer Cardigan
13
Kodiak Hooded Pocket Scarf
Just when I thought I couldn't love pocket shawls any more than I already do…someone went and added a hood! You'll be happy to note that this hooded pocket scarf uses super bulky yarn so your project will be super quick!
Designer : Two of Wands
Pattern Here: Kodiak Hooded Pocket Scarf
14
Boho Beaded Pocket Scarf
The wide variety of stitches in this beaded pocket scarf will make this project more interesting for someone looking for a challenge! You just might learn something new, and I think the finished results speak for themselves.
Designer : tldotcrochet
Pattern Here: Boho Beaded Pocket Scarf
A delicate mesh stitch similar to the moss stitch helps keep this oversized pocket wrap still feel lightweight. The little bobbles on the 2 longer sides and the fringe on the ends add a bit of whimsy and fun.
Designer : Lulo Stitch Co
Pattern Here: Sabrina Pocket Wrap
Clever construction on the part of the designer of this fabulous fairy tale scarf means less sewing for you. The pockets are made from simply folding up the ends of the scarf and stitching the sides closed. The lovely texture you see is owed to the sedge stitch.
Designer : Nana's Crafty Home
Pattern Here: Fairy Tale Scarf
17
Fringe Scarf with Pockets
You might have to make a special trip to the store for a 16 mm crochet hook, but you'll be able to make up for lost time with how quickly this super-sized scarf works up. Something about this scarf is just so hollywood, don't you think?
Designer : Melanie Ham
Pattern Here: Fringe Scarf with Pockets
This mulberry pocket scarf is the perfect example of simple but interesting. You might have to learn a new stitch (the mini bean stitch) but you won't have to keep switching between stitches every few rows. It's the perfect project for a Netflix binge!
Designer : Hopeful Honey
Pattern Here: Pocket Mulberry Scarf
19
Cuddy Cat Crochet Scoodie
You can nix the hat when you make a scoodie (scarf hoodie). The cat ears and paw details on the pockets are just the icing on the cake for this cute cat scarf. Bonus, it's all double crochet! Easy peasy.
Designer : Moogly Blog
Pattern Here: Cuddy Cat Crochet Scoodie
Made all in one piece, this lace pocket shawl reminds me of a beautiful garden trellis. The reviewers are raving about the ease of the pattern and the responsiveness of the designer. And of course who doesn't love fringe?
Designer : KathyLutzDesigns
Pattern Here: Cascade Pocket Shawl
This deceptively complicated-looking pocket shawl is actually made using a modified form of the granny stitch. So easy! I'm sure you already have the worsted-weight yarn in your stash so why not start this project?
Designer : Witherun Style
Pattern Here: Thermal Pocket Shawl
You can totally make this easy cozy pocket shawl. It only uses single crochet and half double crochet stitches and yet it looks way more intricate. You can tell all your friends how easy it was to make but I'm sure they won't believe you!
Designer : CrystalBearDesigns
Pattern Here: Reader's Wrap Shawl
Is it just me or does this cozy shawl make you want to take a road trip and sniff vegetables at a distant farmer's market? It's such a cute pattern and perfect for those crocheters who live somewhere it doesn't get very cold.
Designer : Heart Hook Home
Pattern Here: The Wanderlust Shawl
The simple stitchwork on this fireside pocket shawl makes a lovely drape. You can wear it down over your shoulders like a shawl or bunched around your neck more like an over-sized scarf.
Designer : Sunflower Cottage Crochet
Pattern Here: Fireside Pocket Shawl
This pocket shawl right here is the pattern that sparked the massive pocket shawl movement. The simple rectangle design, pockets and fringe are so appealing to beginners and seasoned crocheters alike. It's both cozy and practical.
Designer : Knot Yourself Out
Pattern Here: Perfect-Pockets Shawl
Have I convinced you yet? If you haven't made a pocket shawl yet, you are missing out! There is one side effect that I should mention, though. As soon as you post your finished project on your social media sites all your friends are going to want one too! You can make them as Christmas gifts or sell a few for extra cash. Either way, it's a win-win!
Make sure to follow my blog for more fantastic crochet round-ups and all the hottest crochet trends. Bookmark this page for when you're ready to make another pocket shawl!