Summer is here and it's bringing the heat! Stay cool and cute with one of these stunning sun hats. Sun hats are the absolute perfect mix of stylish and practical. You are going to feel so confident wearing one of these hats and your skin will thank you too!
Nothing says summer like bright colors and cute sunhats! Yellow especially is one of my go-to picks for a summery and stylish outfit. This texture-tastic sunhat is available in 4 different sizes so you can get a great fit!
Designer : A Crocheted Simplicity
Pattern Here: Makin' Lemonade Sunhat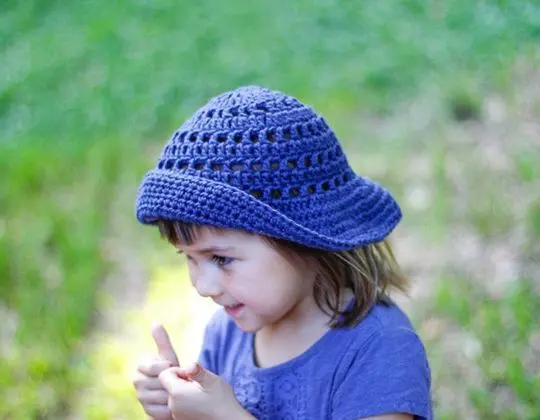 This fun and floppy sunhat only uses one skein of yarn. Cotton yarn is recommended for this yarn to keep your kiddo nice and cool even on a super hot day. Only available in a child size.
Designer : Salty Pearl Crochet
Pattern Here: Floppy Eyelets Sun Hat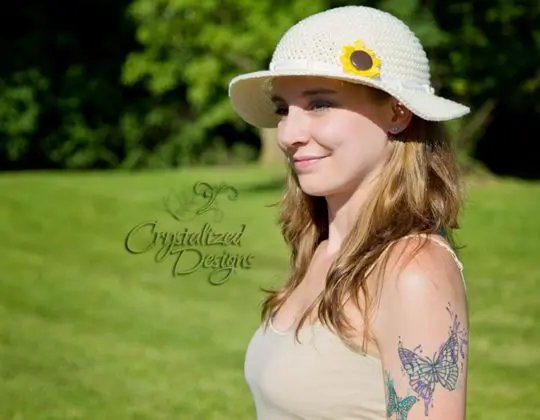 You'll be looking extra cute in a classic white sunhat. The sunflower embellishment is optional but I think it's totally worth making. This free crochet pattern is available in 6 sizes – including 3 baby sizes. Please someone make a matching mommy and me set and send me pics!
Designer : Crystalized Designs
Pattern Here: Sunflower Sun Hat
You can make this modern monochrome sun hat using less than 2 skeins of yarn. You only need the yarn and nothing else because the stiff brim doesn't require any special starches or sprays like some other hats do.
Designer : Sewrella
Pattern Here: June Sun Hat
5
Brickwork Summer Sun Hat
The stunning stitchwork on this beautifully textured sunhat isn't as tricky as it looks. It's just alternating double crochet and front post double crochet. There is also a child size version.
Designer : The Lavender Chair
Pattern Here: Brickwork Summer Sun Hat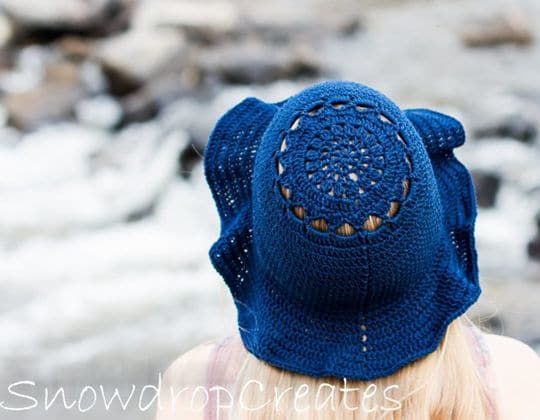 The difference is in the details! A beautiful doily-inspired lace top really sets the bluebell sunhat apart from the rest. I love that the floppy brim is so cute and casual. This free crochet pattern is available in 3 sizes, yay!
Designer : Snowdrop Creates
Pattern Here: Bluebell Sunhat
This hat's unique name comes from the fact that it was designed as part of a bullying prevention campaign. This is our first 2 color sunhat of the round-up and I gotta tell you…I. Love. It. You wanna know what's even better? It's machine-washable!
Designer : Coco Crochet Lee
Pattern Here: Coco Crochet Lee
This oversized hat can even be worn over a ponytail so you can keep your hair off your neck to stay cool. I love the understate variegated yarn they chose for this cute hat, don't you?
Designer : The Chilly Dog
Pattern Here: Hazy Daze Hat
One reviewer says: "This was easy to follow/make. The end product looks really good." My favorite part about this ribbon yarn sunhat is the fun lacey brim.
Designer : OfBooksAndHooks
Pattern Here: Fun in the Sun Hat
Oh, my heart! I am in love with this adorable little baby sun hat. Bubblegum pink and white are such a classic color combination and so perfect for summer, too!
Designer : My Merry Messy Life
Pattern Here: Granny Stitch Sun Hat
Raffia yarn helps give this statement sunhat extra structure, perfect for it's signature extra wide brim. I think it's safe to say that if you wear this hat, all eyes are going to be on you!
Designer : Craft Passion
Pattern Here: Wide Brim Beach Hat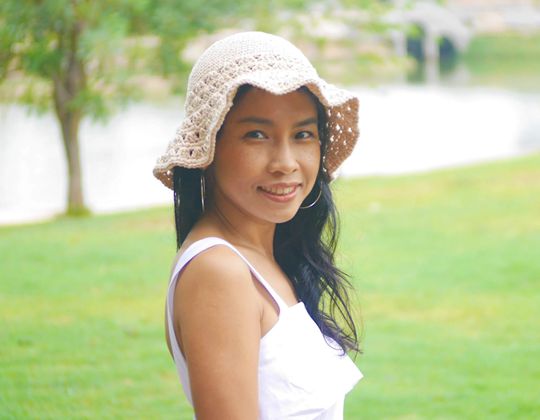 This beachy sunhat is worked double-stranded so you can whip one up quick before a last minute trip to the beach. There is also an option to use bulky weight yarn if you prefer. Either way, it's gonna be a fast make!
Designer : Jenny and Teddy
Pattern Here: Beach Vibe Sun Hat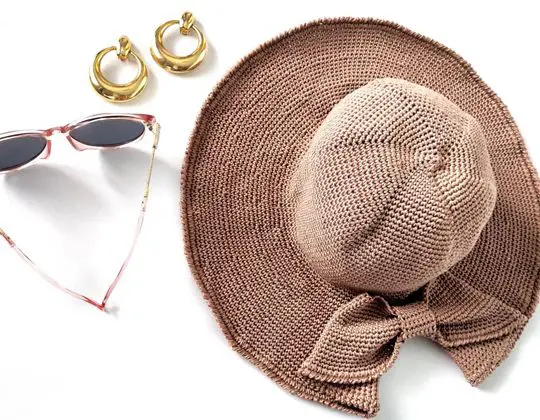 One reviewer says: "This hat is sassy, classy and just plain fun. It's also extremely easy to make." The split brim and giant bow really help this showstopping sunhat stand out!
Designer : BeautyCrochetPattern
Pattern Here: Floppy Sunhat with Bow
For some reason this hat makes me think of a soap opera and I'm into it. I mean, really, this sultry sunhat is a whole mood. You'll need some wire for the brim but obviously it's totally worth it.
Designer : Salty Pearl Crochet
Pattern Here: The Salt Grass Hat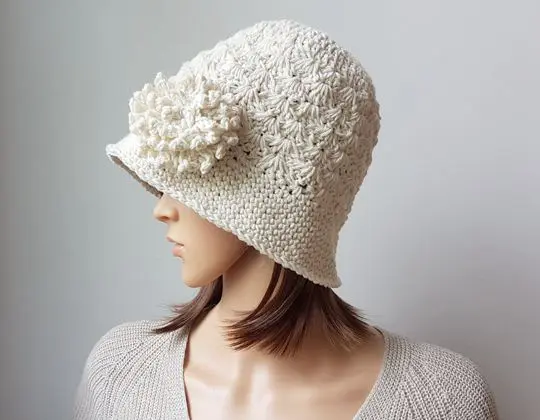 This sunhat was actually designed as a summer chemo cap. The close fitting stitches give extra scalp coverage and the brim can be folded up and pinned, if desired. Don't worry, the breathable cotton yarn makes it so the hat doesn't get too hot.
Designer : Oombawka Design
Pattern Here: Soft Cotton Sunhat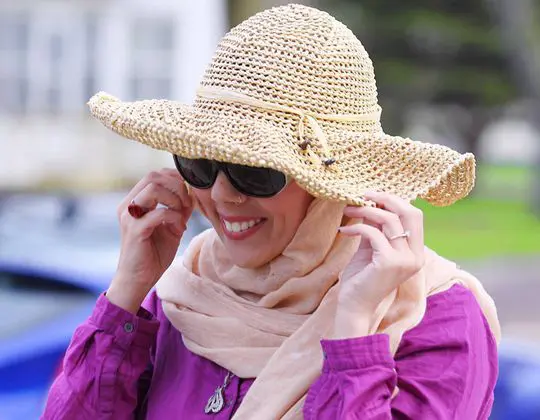 This classic raffia sunhat can be worn with the floppy brim as shown or blocked and starched for a stiffer brim. It's up to you! I love both versions so much. It's hard to decide!
Designer : Yarnutopia
Pattern Here: Hometown Honey Sunhat
17
Amazing Grace Blissful Summer Hat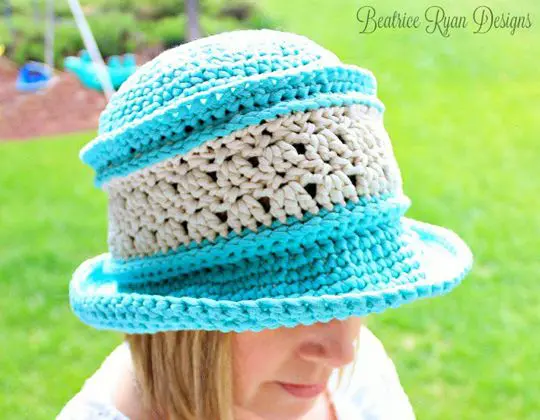 If you want a unique sunhat then this is the one for you. The difference is in the details: a lace band, two striking color choices and a stiff, curled brim. I'm in love!
Designer : Beatrice Ryan Designs
Pattern Here: Amazing Grace Blissful Summer Hat
Say goodbye to sunburned cheeks and bad hair days with this fabulous crochet fedora. You can even fold this hat to pack it in your bag and it easily pops back into shape. Can you say vacay?!
Designer : Make and Do Crew
Pattern Here: Fedora Sun Hat
19
Stacked Shells Floppy Sun Hat
Don't be intimidated by the intricate stitchwork on this bright green sun hat. It's literally just single crochets and double crochets. Easy and cute?! Sign me up!
Designer : The Lavender Chair
Pattern Here: Stacked Shells Floppy Sun Hat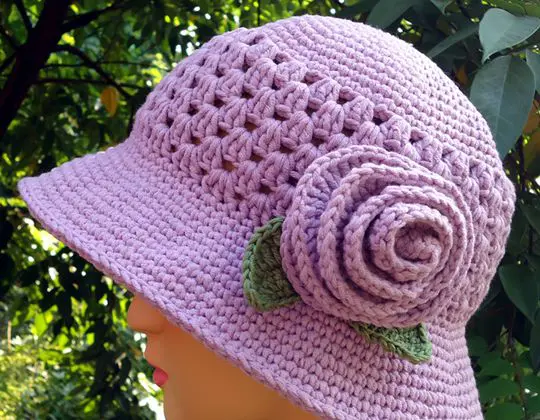 Embrace your feminine side with this flirty lace hat. It simply wouldn't be complete without the fabulous flower embellishment. You can even flip the brim up or down to change up the look.
Designer : Stitch of Love
Pattern Here: Sun Hat for My Mom
This free PDF pattern is available in both crochet and knit instructions. Score! I love the fun textures that the "pebbles" make. The pebble beach hat reminds me of a rocky river beach.
Designer : Melody's Makings
Pattern Here: Pebble Beach Hat
You don't want to put in all the work to make your kiddo a cute sunhat and then have the wind whip it off their head, do you?! This free crochet pattern solves that problem with a snug fit and an extra low brim.
Designer : Snowdrop Creates
Pattern Here: Daffodil Sunhat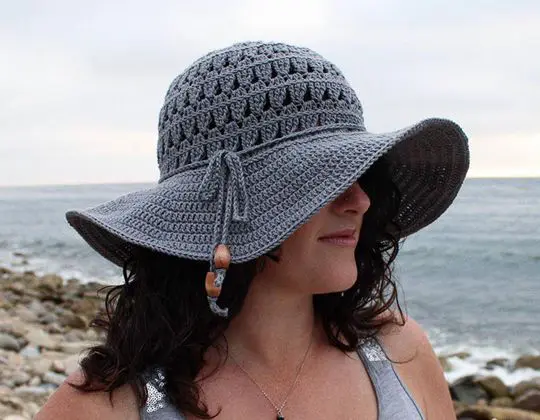 One reviewer says: "Love this pattern!!! Easy and fast to work up." The trick to the stiff brim on this sophisticated sunhat is jewelry wire. Who knew?!
Designer : GleefulThingsCrochet
Pattern Here: Petals Sun Hat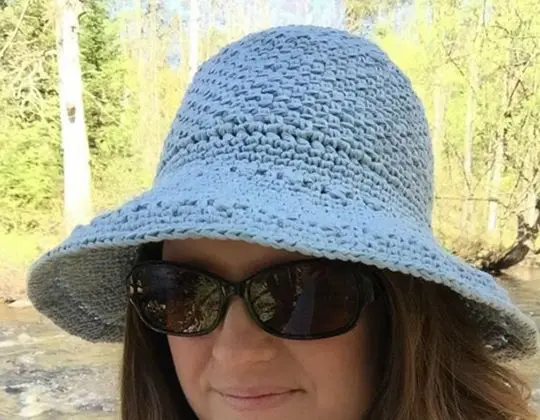 The classic sunhat silhouette is thanks to the super soft and sturdy "Rewind" yarn used. The hat is worked in continuous rounds from the top down so there's no visible seam.
Designer : A Crocheted Simplicity
Pattern Here: Stop and Rewind Sunhat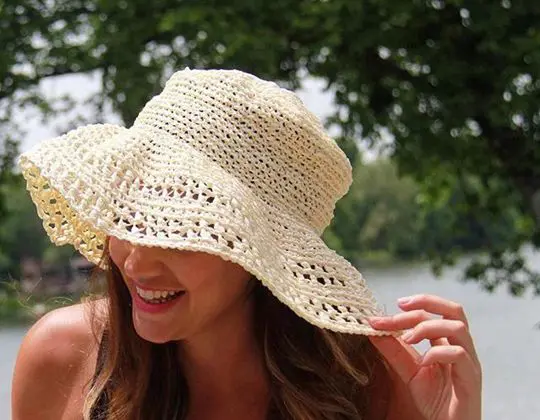 This floppy sun hat is another one made from raffia yarn. This yarn is so popular for a few reasons: it's lightweight, keeps it shape and looks great!
Designer : See Love Share
Pattern Here: Floppy Sun Hat
I know, I know…there's just so many to choose from! Which one will you be rocking at the beach this summer? I would love to hear your opinions and see your beautiful makes in the comments below. Work it, girl!
Don't forget to bookmark this page so you can come back for more when all your friends ask you to make them one. #sorrynotsorry #crochetallthesunhats
---