Autumn is already here, and winter is approaching – and that means it is time for creating scarves, blankets, even pillows that will help us stay warm and be stylish!
We have compiled a list of 12 Crochet Patterns which are must-have for this season as they will help you improve your looks and your home; from cowl and scarfs to cozy, squishy pillows that win on Instagram, you will find everything you will need to stay in style, warm, and cozy! So, let's go over the list!
1
Your own easy Crochet cowl
Beginners we are starting with you! This gorgeous black and white crochet cowl is perfect for beginners, and if you are advanced, then this will be a piece of cake for you!
Brought to us by Elsie and Emma and their "A beautiful Mess" page, this cowl looks like it is in a black and white zig-zag pattern, and is the perfect accessory for any autumn-winter combination. Moreover, it is perfect for practicing stitches, as Elsie and Emma offer two methods, the first one with one color and second with two colors.
Designer : a Beautiful Mess
Pattern Here: Your own easy Crochet cowl
2
Morning has broken Shawl
The morning has broken shawl is created from multiple color yarn – in this case, Fiesta color way from the Lion Brand Homespun yarn, but you can change it for any other weight category 5 yarn.
Don't let the colorful look scare you, this shawl's pattern is actually easy to make as it uses simple stitches and you can do it rather quickly due to the large hook size and the bulky yarn.
Photo by: Naikaiouk
Pattern Here: Morning has broken Shawl
Hooked by Anna this time offers us one of the most interesting, pretty-to-wear circlet cowls! You can do it in any color you want or combine several of them; Anna offers you two choices: you can use fine, lacy yarn and create elegant, light cowl for autumn and summer, or you can go with the heavy bulky yarn to create thicker, cozier variations for autumn and winter! You choose!
Designer: Hooked by Anna
Pattern Here: Circlet Cowl
Absolutely stunning, mesmerizing and gorgeous, this detail will bring beauty to any home. This time Elizabeth Ann White brings us the Bella Crochet – a fun project for everyone who is familiar with working with size 10 thread and steel hooks and knows the basics already. You can make it in multiple colors or in one, it is really up to you!
Designer: Bella Crochet
Pattern Here: Mavanee's Roses Doily
5
Fireside Melody Cushion
One of Instagram's favorites of all times, the big Fireside Melody cushion will definitely level up the coziness of every home, making it more stylish, fun and dreamy.
The oversized design inspired by the Danish concept of Hugge goes well with any interior and the best thing of all is that every enthusiastic, ambitious beginner can tackle this easy pattern if they follow the step by step guide that Hopeful Honey provided on her page. She even included pictures! Time to get gigantic wool, a jumbo hook and go to work!
Designer: Hopeful Honey
Pattern Here: Fireside Melody Cushion
6
Cuddle Baby Cables Blanket
For every new mommy or someone who wants to spark joy and happiness in new mommy's life, we present the ultimate, soft Cuddle Baby Cables Blanket! Recommended for everyone already familiar with the general cables, the Cuddle Baby Cables Blanket has two rows with 110 stitches each, and all cable stitches are worked into the fpdc stitches beneath the previous row. This is the usual size for babies, but if you want, you can make it bigger, bolder and use it for yourself.
Designer: Morgan Palomo
Pattern Here: Cuddle Baby Cables Blanket
While we are on the subject of kid's wear, can we really go without some funky, traditional, rainbow color poncho? Of course not!
With complete directions for everything you need to create this and a much larger size poncho, Kati instructs you how to take a single size pattern, customize it to the size that works for you and create the Broomstick Lace stitch Poncho. Let the poncho season begin!
Designer: Kati Donahue
Pattern Here: Marie Louise Poncho
Autumn is the perfect season for gorgeous, knitted, oversized sweaters and tops that make us feel like we can conquer the world, and if you are able to create this top, then you definitely can accomplish anything.
Meant for intermediate level, this top is designed to a very loose fit, with tight, snug-fit sleeves which are customized according to personal choice. The designer offers the ultimate complete guide with important tips highlighted, so nothing is left to chance!
Designer: Nurturing Fibres
Pattern Here: Rebel Top
you can accomplish it by using leftovers of bulky yarn, or for more striped effect with slight color changes and nice nuances like you see on the picture, you can use one yarn in solid color and one with long print and follow Airali's ultimate guide, with explanations for everything, including the measures and lingo used in the instructions. So no more excuses, time for work, ladies!
Designer: Airali
Pattern Here: Forest Fog Cowl
10
Rustic Fringe Infinity Scarf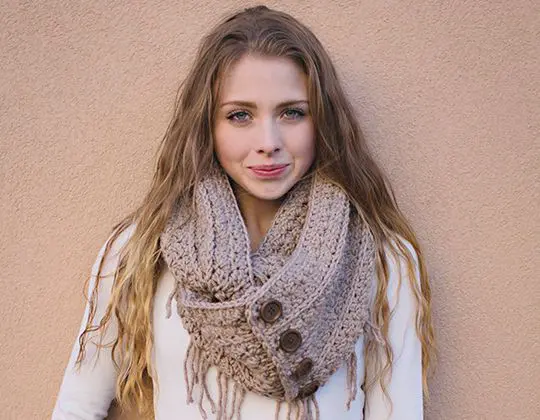 Jumping from one style of scarfs to the next one, we have to present to you the best, rustic infinity scarf that you will simply adore. Presented to us by Rebecca from Little Monkeys Crochet, the rusting fringe infinity scarf is the ultimate country, traditional scarf is made with bulky weight, sturdy yarn (Brown, 3.5 oz. in Taupe color) which does not split and enables you to create a daring pattern with stitch definition shown of very clearly!
Designer: Little Monkeys Crochet
Pattern Here: Rustic Fringe Infinity Scarf
And can the autumn look really be complete without a cute little hat? No! Meant for everyone with some basic knowledge in knitting, to create this hat you will need to flow Diana's instructions and work in the back third loop of an hdc to create the hat's pattern. You can go single color or two colors.
Also, you will be creating 2 parts: body and brim; the body is more complex as you will need to work from the top down in the round with a slip st at the end of the rnd into the first stitch of that same rnd, while the brim will be simpler you will only need to work in back and forth rows. Do you dare to give it a try?
Designer: Divine Debris
Pattern Here: Dianna Newsboy Hat
We saved the best, most unique for the last one: Marta's famous scarf is the coolest, edgy, versatile scarf that will bring edginess to your style. This is meant for everyone, beginners, intermediate and advanced, everyone can create the famous Marta scarf with a cowl. All the instructions are given to you in English and Spanish, and you can follow them to create the Camel stitch which works perfectly with the scarf.
Designer: Deestraperlo
Pattern Here: Marta's Famous Scarf
---