As we watch the temperatures slowly go down, and we prepare for our hot chocolates and pumpkin spice coffees, we can't help but go down with the joy-fever the second we imagine our evenings going in the cozy Hugge style: cozy, warm, comfortable and safe, coved in our favorite blankets while doing simple things like reading or watching TV. The entire Danish Hugge mood really took over the world in the recent years and we really are loving it.
For those of you who still haven't Caught up on this trend, Hugge is "a quality of coziness (feeling warm, comfortable, and safe) that comes from doing simple things such as lighting candles, baking, or spending time at home with your family." One vital part of this cozy relaxing experience is creating atmosphere that provides you warmth and coziness and an inevitable part of it is using the good old blanket! This sounds perfect not only for us, but definitely is the thing we want we want to create for our precious little babies! That's why we decided to give you 25 free baby blanket crochet patterns that will help you keep your baby warm, cozy and happy – completely Zen and Hugge; and if you are ready to go an extra mile, you can create these blankets in bigger size and enjoy them yourself! The following patterns inspired over 1000 people around the world and we really hope that they will inspire you too!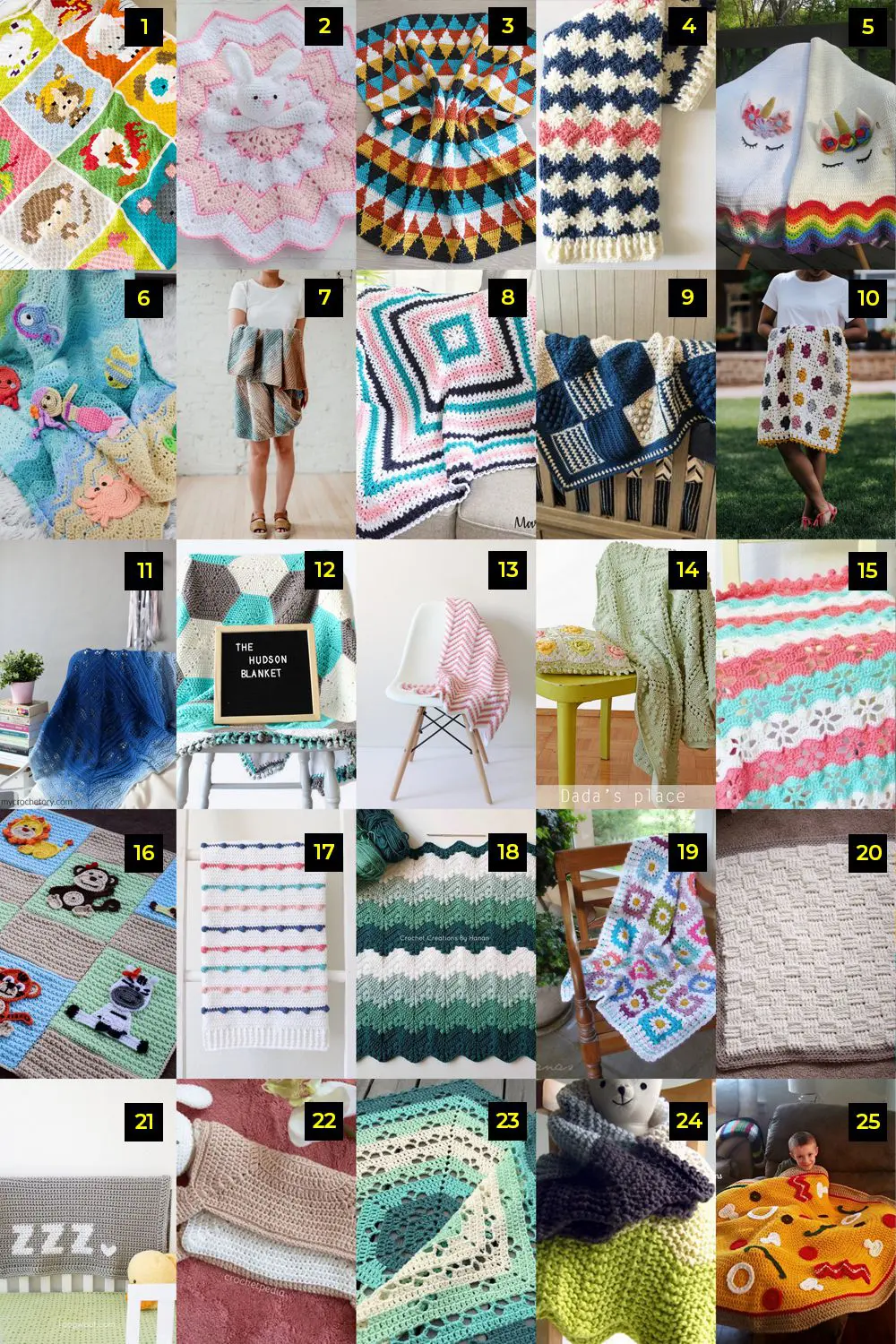 Here are our 25 free baby blanket crochet patterns:
25
Chunky Pizza Throw Blanket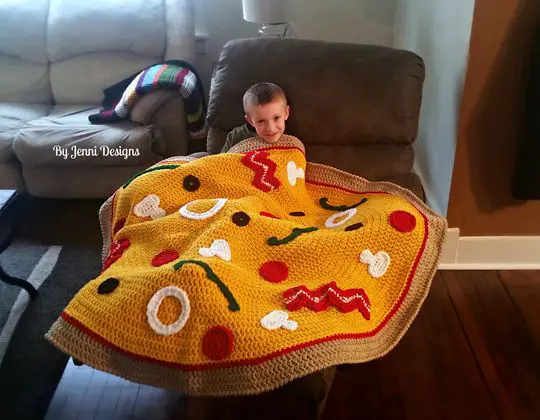 Just like no one in the entire world can resist a good slice of pizza, no kid will ever resist this beautiful, fun, chunky pizza blanket that simply makes you warm and a bit hungry!
Pizza blankets are quite popular among kids as they remind them of their favourite food and they are warm, cozy and soft! On Jenny Designs, you will be able to find a free pattern for creating a bulky, pizza blanket that is labeled as easy/intermediate. However, since it goes in round and there are several joints as well as different patterns for the decorations, we do recommend it for someone who has previous experience! This project at first look may not seem too complex for those who are pros in knitting, but even for them, it will be time-consuming as they will need time to create the base as well as all the topping-decorations on it. But it is definitely worth the time!
You can use it to cover your loved one when they are playing games/watching TV, or when you snuggle them for a goodnight story! This blanket is also perfect as a base on which kids will sit and play! And if you don't have kids of your own, you can still enjoy spreading the love with this blanket by creating it and giving it as a gift to your friends' kids or someone else you love, no one will refuse a pizza blanket for sure!
Designer : Jenni Designs
Pattern Here: Chunky Pizza Throw Blanket
24
Ombre Chevron Baby Blanket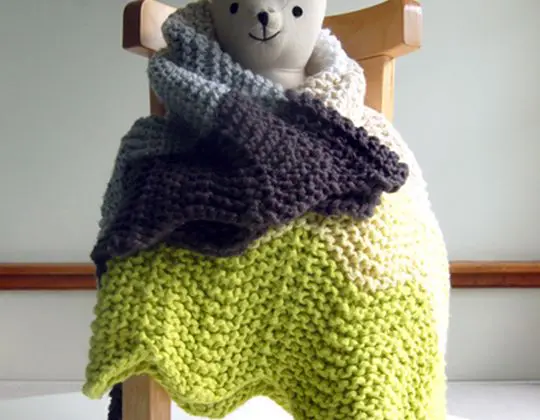 Can anyone really resist a good ombre blanket? Add to this chevron pattern too, and you can definitely sign me in! "Deep, soft, and cozy as cloud," as the designer describes it, this chevron blanket is made of Worsted cotton, in multiple colors; you can go with the lemongrass colors which go from light, bright green shades to elegant grey ones, or with the sky combination that explores the richness of the blue color. You will need to do 100 stitches, but don't worry, Purl Soho offers you a complete guide including videos for some of the steps!
Designer : Purl Soho
Pattern Here: Ombre Chevron Baby Blanket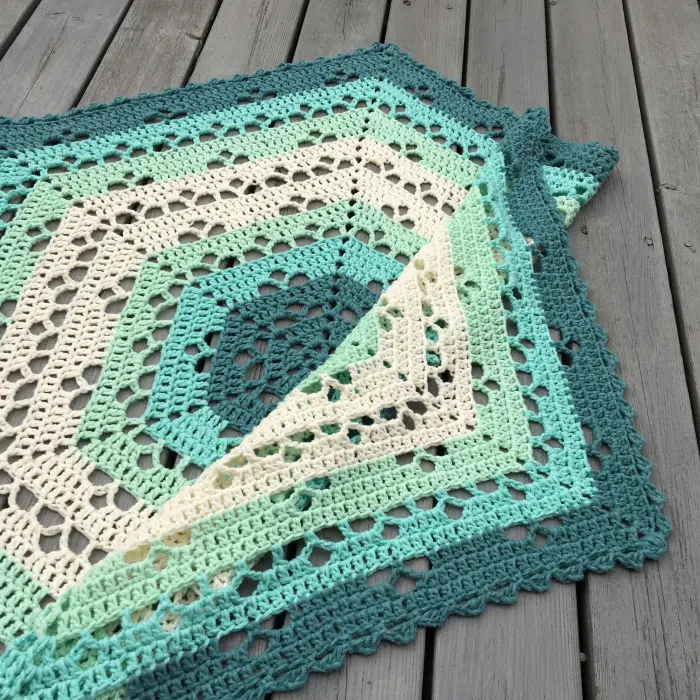 If you are ready for colorful challenge that plays with colors and shapes then you definitely need to consider this one: the cloudberry blanket is a colorful hexagon shaped blanket made out of super soft Scheepjes Eliza yarn; Johanna offers you everything: from where you can find the yarn to how to create the ombre effect blanket (using one skein of each four colors), to several different color combinations and through step-by step guide which comes in multiple languages: Spanish, Danish, English, German, French, Slovak, and Hungarian!
Designer : Mijo Crochet – Johanna Lindahl
Pattern Here: Cloudberry Blanket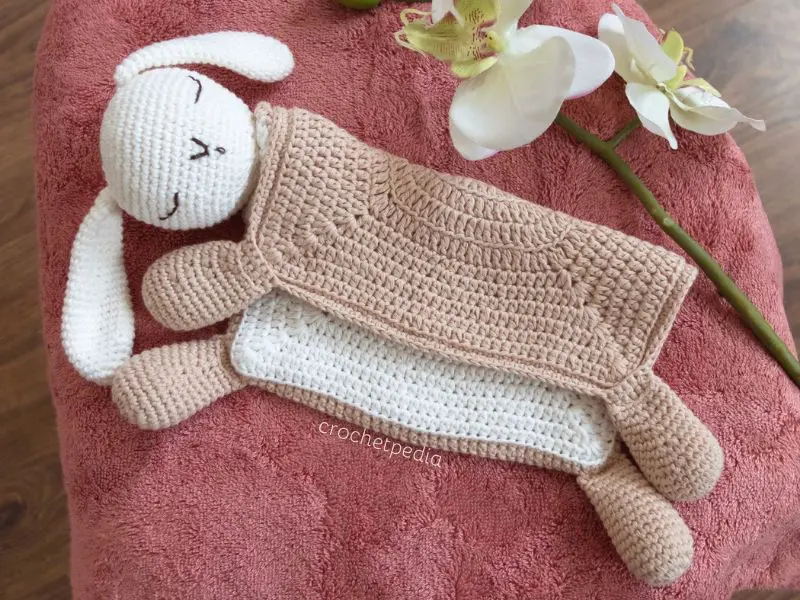 What do you say about gorgeous cuddly lovey with sleepy bunny design? Yes please! This pattern consists of a blankie, to which a bunny head is attached; the size of the blanket depends on your choice of yarn and the crotchet hook. This is meant for upper beginners who will need to create two identical blankets, join them together and attach four paws on each side, and a head in shape of a ball with 2 elongated years. This definitely is one of the most interesting, worthy challenges you will take!
Designer : Crochetpedia – Kate
Pattern Here: Sleepy bunny lovey
21
ZZZ's Crochet baby blanket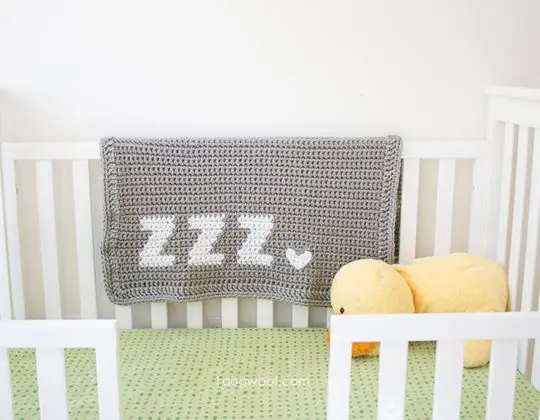 The adorable ZZZ's Crochet baby blanket is simple, yet quite fun and interesting: it has a nice design on which you recognize the ZZZ's ending with a heart. According to its designer, the hardest part was precisely the adorable little heart! You will need yards in two colors, one for the letters (1 yard) and one for the rest of the blanket (5 yards) and for this pattern you will use the free stitch fiddle software to help you create the design you want. Follow the detailed instructions bellow:
Designer : One Dog Woof
Pattern Here: ZZZ's Crochet baby blanket
20
Basket Weave Crochet Baby Blanket
Aren't basket weave patterns simply irresistible? If you also agree, then please check the following Basket weave crochet baby blanket! It is made of soft, chunky acrylic yarn which is a bit more expensive, but completely worth it. You can use a size N hook to cove along quickly and create the gorgeous patterns; meant for upper beginners, this blanket consists of repeating patterns joined together and craftily finished with "framed" edge in different color; find all of the details bellow!
Designer : Delia Creates
Pattern Here: Basket Weave Crochet Baby Blanket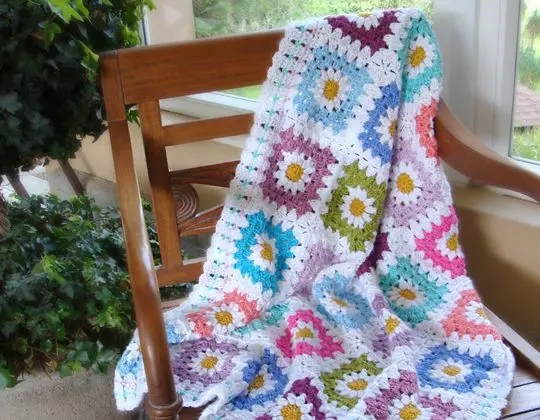 Are you ready for a challenge? Let's go back to the good, old traditional patterns like the daisy pattern. Here we are offering you two links which both lead to the classical daisy pattern blankets; you will need to create each daisy individually, using different colors or different shades of the same colors and then you will attach them on a white or other neutral color background; typically you will need to do 30 squares, and if you want to know more, follow either of the links here!
Designer : Color n Cream
Pattern Here: Daisy Crochet Blanket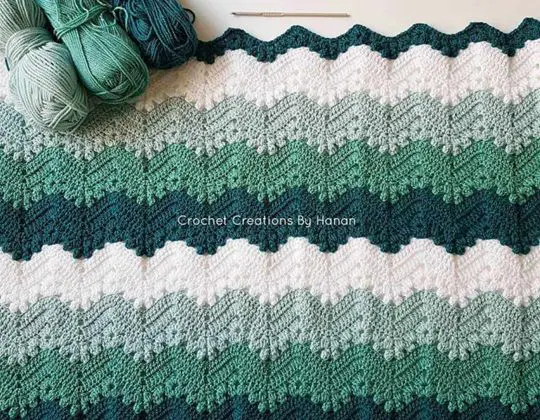 The gorgeous 6-day blanket from Yard Ballin' has one of the most elegant patterns that extremely remind you of lace; this is one of the patterns that had gone viral in the recent years, and interestingly enough, this pattern actually was originally designed and created by Beth McKnit who claimed she came up with the design when she was in graduate school in University of Hawaii and created it for her nephew using super bulky weight yarn and starting with a chain of 105; ten years later, thousands of blankets were inspired from her design, including the Yarn Ballin' design which is one of the prettiest one you will find! Here are both designs: the original and the new adaptation!
Designer : Betty McKnit
Photo credit : Yard Ballin
Pattern Here: The 6-Day Kid Blanket
17
Crochet Bobble Lines Baby Blanket
Let's go back to basics, and simple, elegant chick designs, like the Crochet bobble lines baby blanket! This pattern looks really nice, minimal and sophisticated, and is pretty easy to make; Tiffany from Daisy Farm Crafts uses light, size 3 yarn and H 5.0 mm hook to create the design. She even offers an instructional video, check it out!
Designer : Daisy Farm Crafts
Pattern Here: Crochet Bobble Lines Baby Blanket
16
Jungle Friends Set Baby Blanket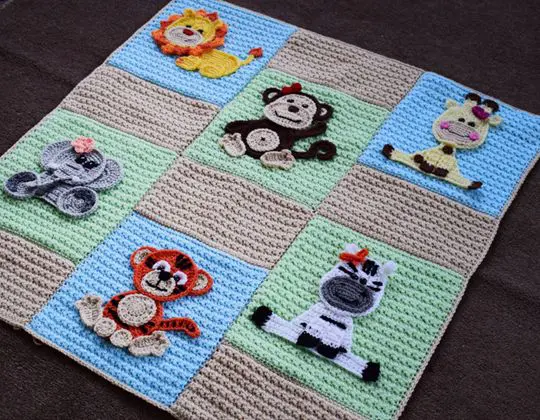 What is cutter than a little, tiny baby blanket? Little, tiny baby blanket with animal prints! Yes, definitely something that your baby and toddlers will adore! The Jungle Friends set baby blanket has colorful pattern which includes blanket pattern, tiger, monkey, giraffe, zebra, lion, elephant applique patterns and joining of the blanket; you will find detailed instructions for all of the 6 animal patterns alongside 97 photos that will guide you on your journey of creating this fun, jungle themed blanket! All upper beginners, check this out!
Designer : Passionate Crafter
Pattern Here: Jungle Friends Set Baby Blanket
15
Twinkling Stars Blanket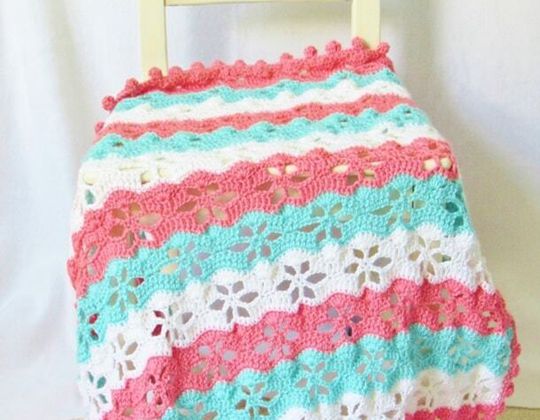 Are you ready for floral, unconventional, lacy blanket? If you are, then take a closer look at the Twinkling Stars Blanket! Colorful and fun, this is a go-to pattern for spring and summer as it is lightweight and airy since it is made from a Worsted Weight yarn; you will need 3 different colors and a hook H to make the stitches! This certainly is an interesting fun pattern which everyone can try!
Designer : Crochet Dreamz
Pattern Here: Twinkling Stars Blanket
14
Vintage Style Crochet Blanket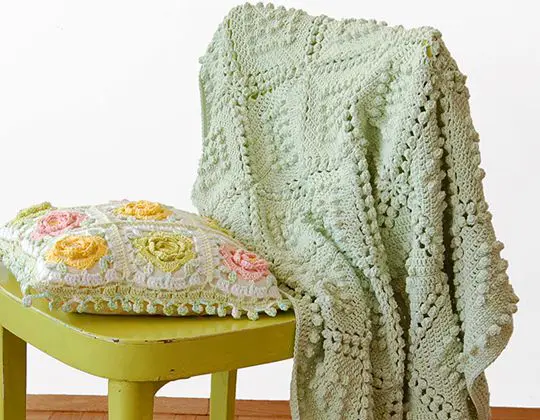 Vintage lovers, we have the perfect gift for your baby: a vintage style crochet blanket! This design is meant for everyone who already has some experience, so it's not for the first time beginners as the design is a bit more complex; you will need to do several types of patterns and stitches including popcorn stitches, but don't worry, they are still fun to work with, and this page offers you the ultimate guide for everything!
Designer : Dada's Place
Pattern Here: Vintage Style Crochet Blanket
13
Crochet Berry Chevron Baby Blanket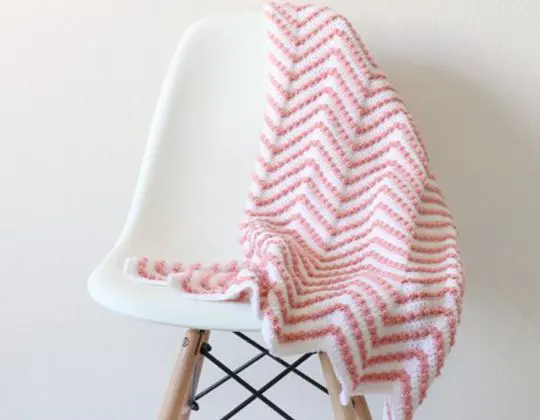 Another all-time favorite from Daisy Farm Crafts is the Crochet Berry Chevron Baby blanket which looks so expensive, rich, and colorful, even though it is only made of 2 colors. This blanket will definitely take more time than you are used to, but trust us, it is worth every second; the design includes use of Bernat Baby Softee yarn which is really soft and cuddly, but a bit more difficult to work with as it is small. Nevertheless, if you are ready to take on a challenge, follow Hannah's instructions!
Designer : Daisy Farm Crafts
Pattern Here: Crochet Berry Chevron Baby Blanket
12
Modern Hexagon Baby Blanket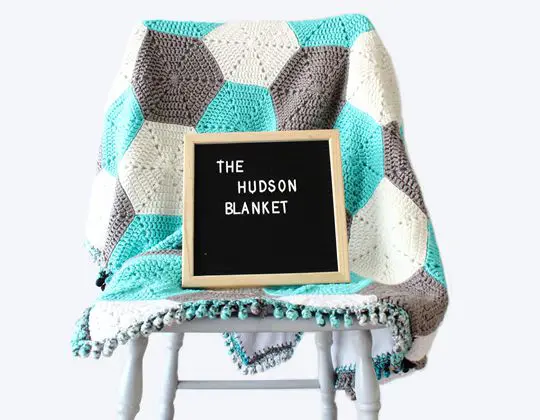 Who can forget the hexagon pattern blankets we have loved and adored for years? No one!
Sheshla gives us the modern, fresh twist of the traditional hexagon baby blanket; she adjusted the pattern and the colors, and the entire blanket as she says "is made up using a simple hexagon pattern and then it's seamed together" with added fleece lining for weight and fun bobble border for edginess! Beginners, even you can consider trying this one, check it out!
Designer : The Blue Elephants – Shehla
Pattern Here: Modern Hexagon Baby Blanket
11
Kalinda Crochet Blanket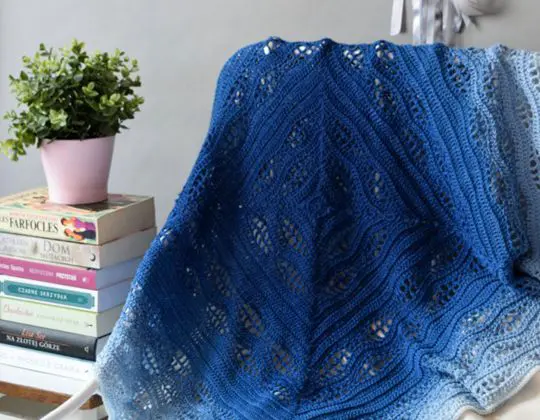 Here to adjust, modify and create something new that satisfies her followers' requests is Sylwia from My Crochetory blog who specifically adjusted her famous Kalinda Shawl patter to a square blanket! Impressive, beautiful and stunning, this blanket, as its designer says, is made of "crochet blanket pattern featuring a waves motif and is just as lovely to crochet as it is to gift and use." It certainly is a "lovely mixture of complexity and simplicity", as its testers claim and is meant for all the adventurous beginners and intermediate level crocheter!
Designer : My Crochetory – Sylwia
Pattern Here: Kalinda Crochet Blanket
10
The Sweet Granny Baby Blanket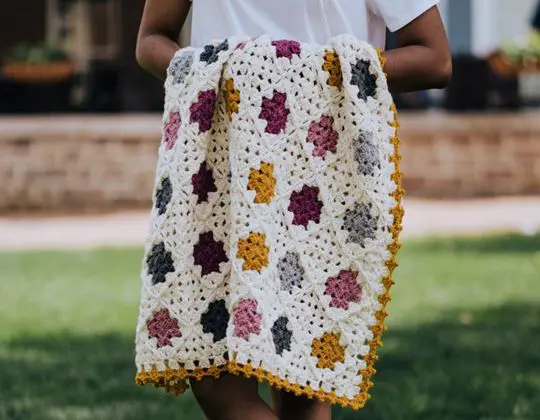 Say thanks to Toni from TL Yarn Crafts as she takes us on a journey back to our past in our grandparents' cozy homes with her Sweet Granny Baby Blanket! She designed it for her new niece, but every single one of you can try and make it for their loved ones; made out of acrylic yard mixed with a touch of wool, this blanket is simple, easy to make, soft and cuddly, and another big plus is the fact that it is easy to wash and maintain. Check out the detailed instructions!
Designer : TL Yarn Crafts – Toni
Pattern Here: The Sweet Granny Baby Blanket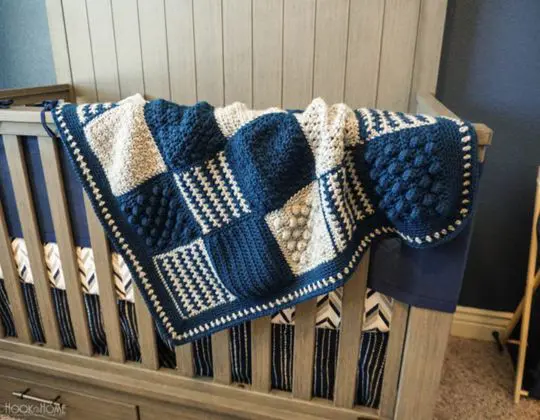 Creating a unique, sophisticated and elegant blanket that is a perfect gift for any baby is really a challenge. Nevertheless, Ashlea offers us instructions on how to create such an amazing, adorable, well-crafted baby blankets on her blog, entirely for free!
If you know your way around knitting and crochets, then, this blanket is the ultimate adventure for you, and here is why.
First of all, this blanket requires your full attention and time, so to make it easier, Ashlea broke the pattern into bite-sized pieces; additionally, the blanket is made in two parts: the first one is creating squares in different designs, and the second one is piecing up together these squares and adding border along their sides. There are few different designs and patterns for the squares to choose from, (you can go with half double crochet, bobble, mini bean, lemon peel, crossed double crochet or moss stitch waffle stitch – she offers thorough instructions for all of them) and you can combine them or simply choose one you like the most and repeat it throughout the blanket.
Another great thing is that she actually offers you a chance to change the size, so if you want to make one bigger blanket for your kid, teen or even for yourself or a friend, you can do so; on her page you will find instructions on how big the squares need to be for different sizes of the blanket, or you can simply use the original size just create more squares! The choice is completely yours!
Designer : Ashlea
Pattern Here: Creighton's Blanket
8
The V-Stitch Granny Blanket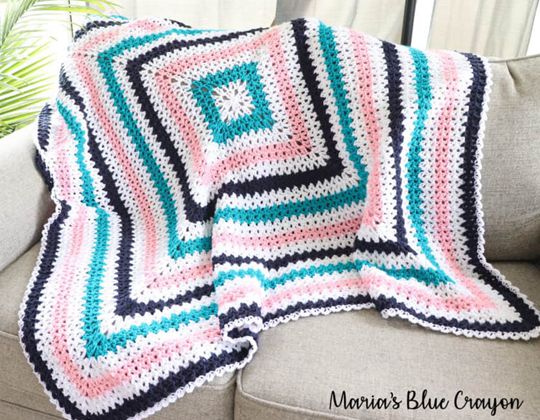 Welcome to the blue world of Maria and her mesmerizing captivating, eye-catchy V-Stitch Granny Blanket! This blanket is meant for everyone, babies, kids even adults, and is so pretty to watch and adorable to cuddle in. Easy and meant for everyone, this blanket is made of continuous granny square that keep on going; these patterns are easy to make, but it will take you some time to put them together, join and sew. Depending on who will receive it, you can adjust the size of this blanket, all you need to do is follow Maria's instructions!
Designer : Maria's Blue Crayon – Maria
Pattern Here: The V-Stitch Granny Blanket
7
The Bias Tunisian Baby Blanket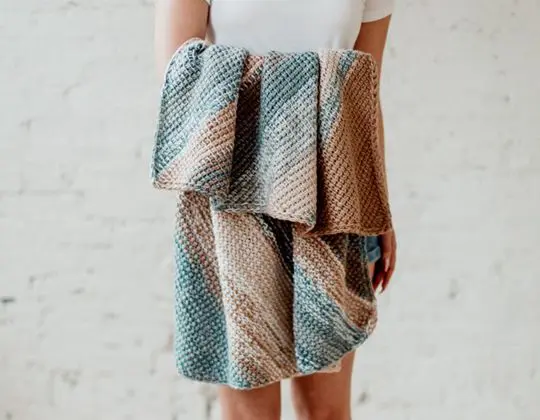 Follow tony on another blanket conquest as she explains to you how to create this adorable, fancy, expensive-looking, traditional blanket that will capture everyone's attention for sure! The blanket "starts with just 3 stitches and grows by two stitches each row to the center", then you need to "incorporate decreases to bring the blanket back to 3 stitches and finish off." Need more details, well visit Tony's blog from the link below!
Designer : TL Yarn Crafts – Toni
Pattern Here: The Bias Tunisian Baby Blanket
6
Undersea Sweetness Blanket
Are you ready for underwater adventure? A journey towards blanket that will win the hearts of your babies, toddlers and kids? If you are, follow us to the Passionate Craft blog and find out how to create the Undersea Sweetness Blanket. The design of the blanket itself is quite simple, but you will need some time and practice to learn how to do the applique patters; for this model you will need to follow the instructions and create blanket pattern, and crab, fish, turtle, mermaid and seahorse applique crochet patterns. With some practice, you will learn them, don't worry, and just follow the instructions bellow!
Designer : Passionate Crafter
Pattern Here: Undersea Sweetness Blanket
Rainbows and unicorns – can it go any better than that? No, of course not! Although it may seem complex and you are wondering if you will be able to do it, don't worry, this one is easy; The Unicorn Baby blanket has an easy and cute design which includes 17 stitches and 9 rows (4inches in DC). It is meant for everyone! Choose your colors, check Jane's instructions and start working your magic!
Designer : Jane Zane
Pattern Here: Unicorn Baby Blanket
4
Crochet Harlequin Blanket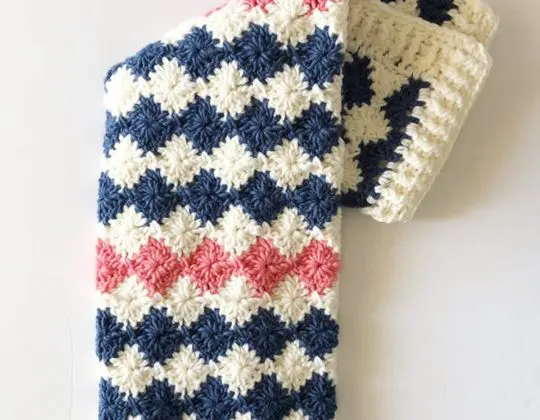 When it comes to simple, elegant designs that look so rich and expensive, Daisy Farm Crafts really outdone themselves each time! This adorable blanket looks like endless field of flowers, and is soft, cuddly, and fluffy – a true dream come true! Made out of chunky yarn in three different colors, using size L hook, and tapestry needle, this blanket is created of Harlequin stitch which everyone with experience will be able to work it out quickly.
Designer : Daisy Farm Crafts
Pattern Here: Crochet Harlequin Blanket
3
Crochet Triangle Blanket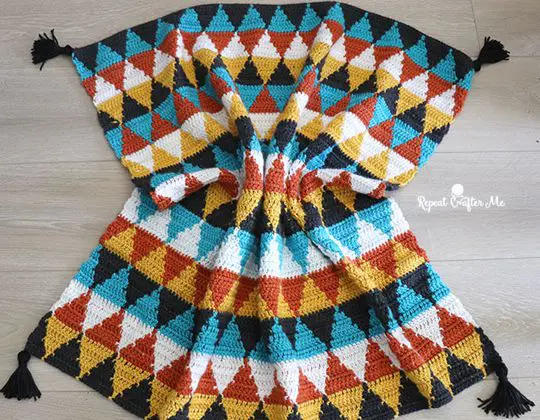 Let's embrace all colors with this colorful, Crochet Triangle Blanket. Made out of 5 colors, this blanket seems like it is hard to make, but it is anything but that. In fact even the beginners can create the seemingly complicated triangles; all they need to do is get their colorful yard, a size G Crochet hook, a tapestry needle and start creating the double crochet stitches!
Want to learn more? Follow Sarah's thorough, detailed instructions on her blog!
Designer : Repeat Crafter Me – Sarah
Pattern Here: Crochet Triangle Blanket
Get ready, here comes the cuteness overload! The adorable Bunny Crochet Lovey Blanket is exactly as you imagine it to be: cute, cuddly, fluffy, pink, and simply irresistible! The pattern can be used for all seasons and adjusted into holiday themed gifts by simple change of colors and few adjustments; with enough videos, resources, and instructions all provided on the blog, and a few yarns in different colors, you will create this lovely gift in no time!
Designer : Crochet 365 Knit Too – Cheryl
Pattern Here: A bunny to love
1
Zoodiacs C2c Crochet Afghan
Zodiac loves, do you think we really forgot about you? Of course not, we saved the best for the last – a Zodiac C2C Crochet Afghan blanket! Now this is not for the beginners and it will definitely take few tries and couple of mistakes even for advanced crocheters, but if you are persistent you will be able to create this lovely blanket; you will need a lot of yarn in different colors to create several different C2C crochet animal squares approximately 18 inches big. Vibrant, sweet and challenging, this is the ultimate crochet dream challenge! Try it!
Designer :One Dog Woof
Pattern Here: Zoodiacs C2C Crochet Afghan
---