Can you really ever have enough slippers? Wearing slippers makes me feel extra special and snuggly. They're one of my favorite little luxuries and they never cease to brighten my day. Crochet slippers also make amazing gifts for men and women because they are so quick to stitch up and there are so many different designs! Check out these amazing crochet slipper designs.
Most of them are FREE and there are a couple of paid ones I just couldn't resist, too.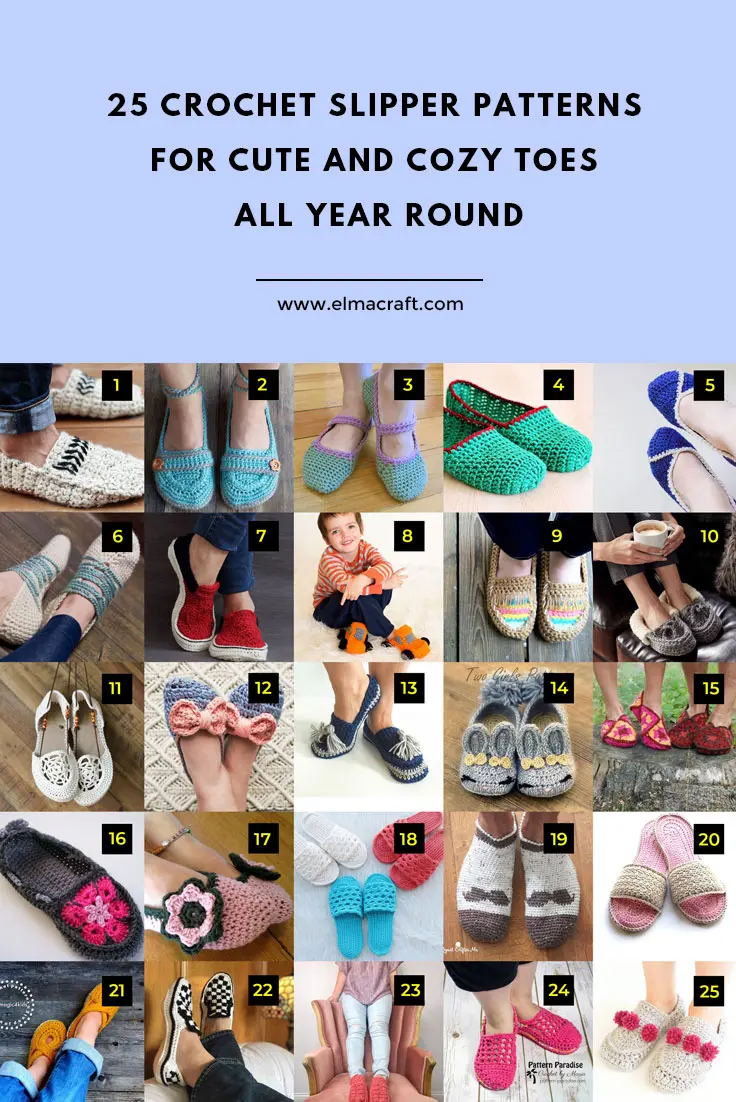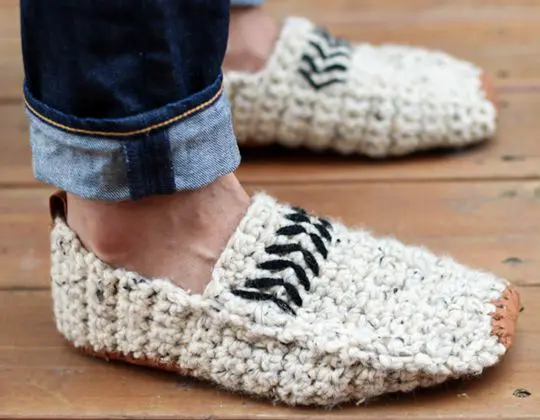 Crochet patterns for men can be hard to find! These stylish and sophisticated slippers are the perfect gift for the men in your life. The leather sole is both practical and fashionable!
Designer : Make and Do Crew
Pattern Here: Modern Men's Slippers
Stitch up these darling dainty slippers for yourself or for a friend. This free crochet pattern features a double layer sole for extra squishy comfort and an adorable ankle tie for added security.
Designer : Whistle and Ivy
Pattern Here: Ankle Tie Slippers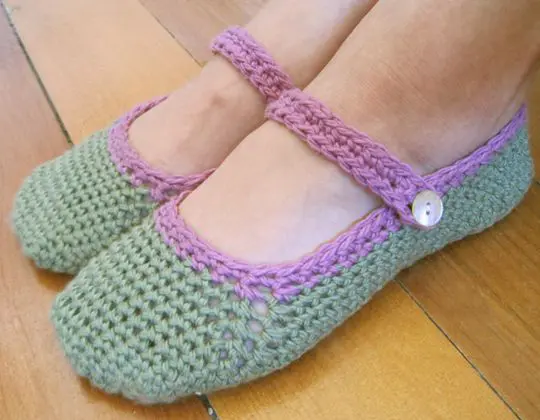 Basic single crochets and clever no-sew design come together in perfect harmony for these darling two-tone slippers. I love the pop of color the bright purple gives these!
Designer : The Little House by the Sea
Pattern Here: Mary Jane Slippers
4
Simple Crochet Slippers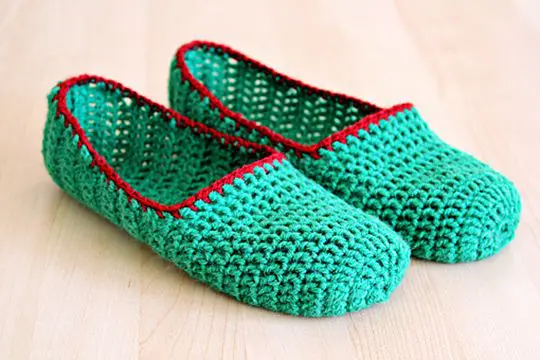 The toe-up construction of the design for these simple slippers lets you try them on as you go to ensure the perfect fit! I love that they are made with all double crochet stitches so they work up very quickly and are easy enough for a beginner.
Designer : Zoom Yummy
Pattern Here: Simple Crochet Slippers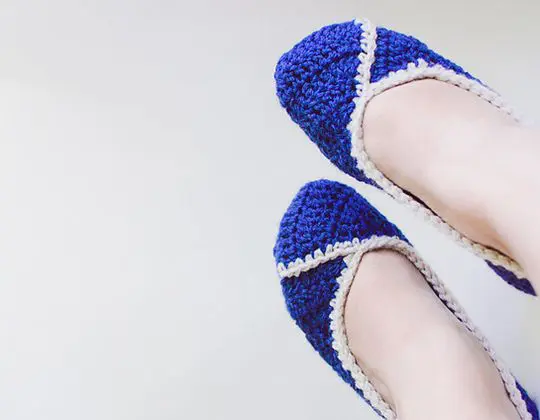 Stitch up something really special with these one-piece wrap slippers. The contrasting edging and diagonal lines really give these cuties that wow factor, don't you think?
Designer : Good Knits
Pattern Here: Lizzie Slippers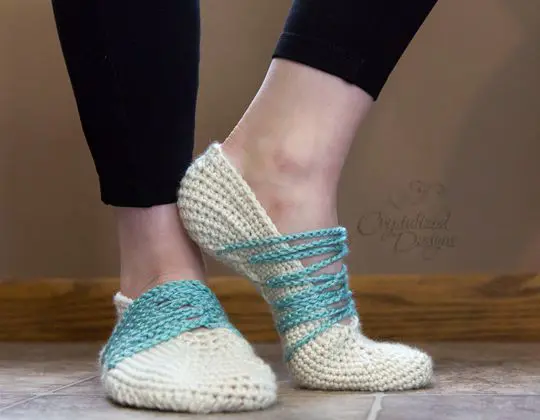 Channel your inner ballerine with these fun strappy slippers. They were named for the goddess of love in Celtic mythology and designed to be given as a Mother's Day gift, awww!
Designer : Crystalized Designs
Pattern Here: Branwen Slippers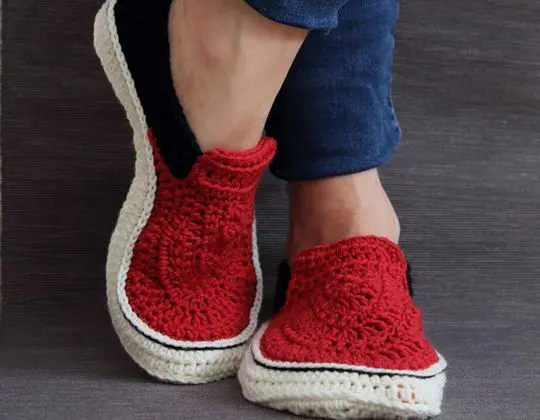 One reviewer says "I've bought this pattern in every size and I love them!" This super in-depth premium pattern includes over 60 photos to make it easier to follow. These vans style slip-ons look great on both men and women.
Designer : Showroom Crochet
Pattern Here: Slip-Ons
Don't forget the kiddos! I can't believe this is a free crochet pattern. These monster truck slippers would make amazing gifts for nieces, nephews and grandkids, don't you think?
Designer : Melody's Makings
Pattern Here: Monster Truck Slippers
Grab some leftover yarn in lots of bright colors to stitch up these colorful summery moccasins. You can't have a bad day when you're wearing shoes this cute, right? I mean, c'mon, they even have fringe! Adorable!
Designer : Just Be Crafty
Pattern Here: Tribal Moccasins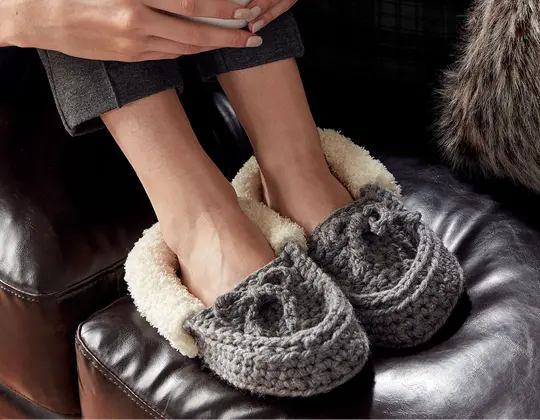 Stitch up these quick and comfy slippers with chunky yarn and a big ol' crochet hook. This pattern comes in 3 different sizes so you can make some for the whole family. Am I the only one that really wants to make matching crochet slippers for the whole family now??
Designer : Yarnspirations
Pattern Here: Family Moccasins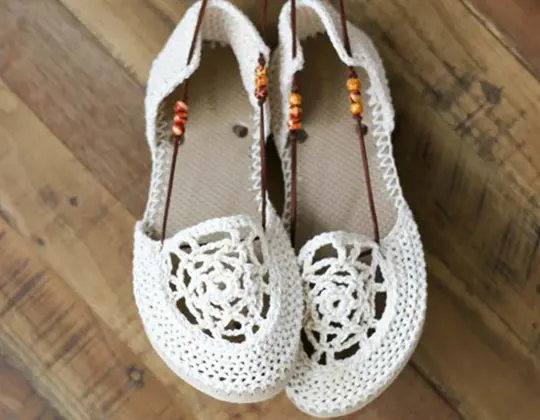 I am getting all the summer boho vibes from these strappy lacey sandals. They are made using flip flops for the sole of the shoes. How clever!
Designer : Make and Do Crew
Pattern Here: Dream Catcher Sandals
12
Ophelia House Slippers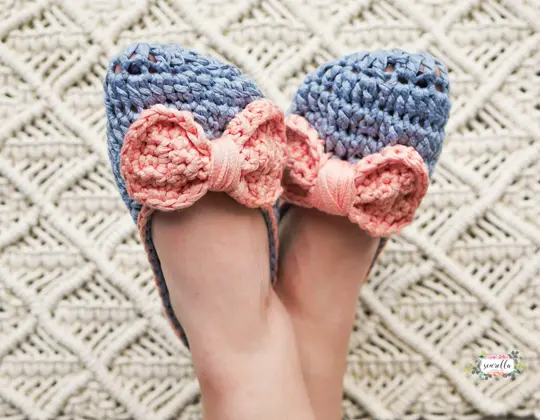 Fact: everything is cuter with a giant bow on it! Keep your toes extra cute and cozy in these feminine house slippers. Of course, the bow is optional, but I say go for it!
Designer : Sewrella
Pattern Here: Ophelia House Slippers
Here's another unisex slipper pattern for a two-color slipper design with tassels. I really want to make this free crochet pattern in my hubby's favorite team colors.
Designer : Dabbles and Babbles
Pattern Here: Tassel Slip-Ons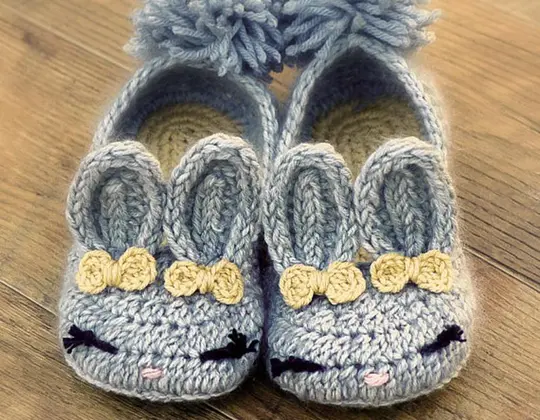 This etsy shop has a 5 star rating out of a whopping 11,000+ reviews, so you know these bunny slippers are the real deal! The difference is in the details: dainty bows below the ears, embroidered eyelashes, and a pom pom tail!
Designer : Two Girls Patterns
Pattern Here: Bunny House Slippers
15
Granny Square Slippers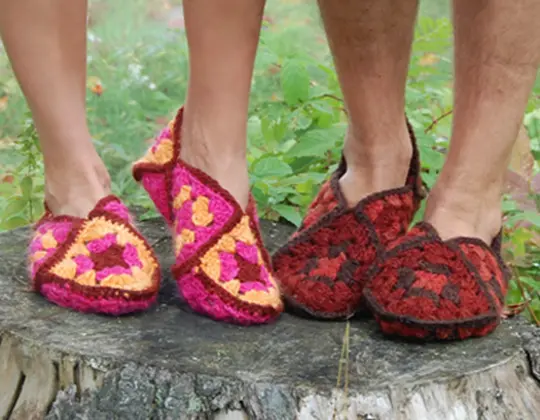 Stitch up these funky granny square slippers to show off your eclectic style. They're cleverly made using just 6 granny squares and they're perfect for using up leftover bits of yarn!
Designer : Pearl Soho
Pattern Here: Granny Square Slippers
16
African Flower Slippers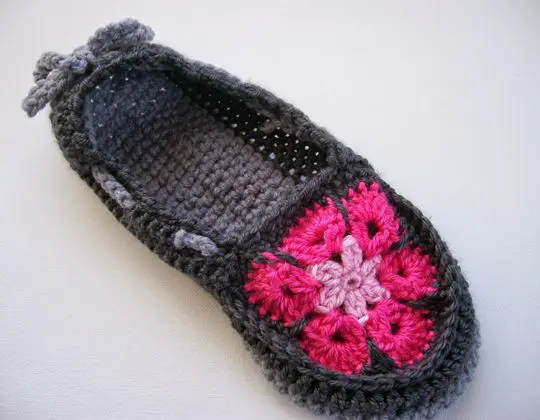 Wow! These one-of-a-kind slippers feature a stunning african flower centerpiece. You may have seen african flowers before in a pretty throw or stuffed animal but I bet you've never seen them on slippers before.
Designer : Vivre au Crochet
Pattern Here: African Flower Slippers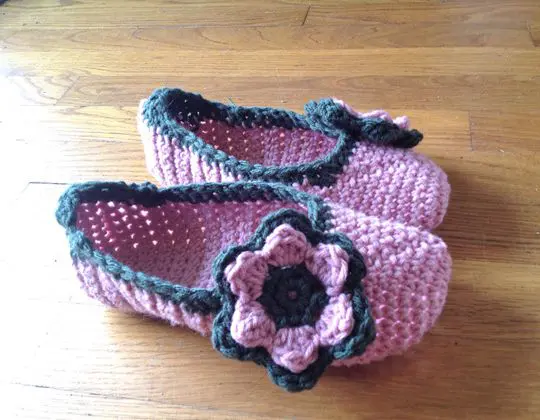 Here's one more pair of flower slippers because I just can't resist! The designer made these to wear on a long plane ride to keep her toes cozy and warm. What a great idea!
Designer : The Life Artistic
Pattern Here: Flower Slippers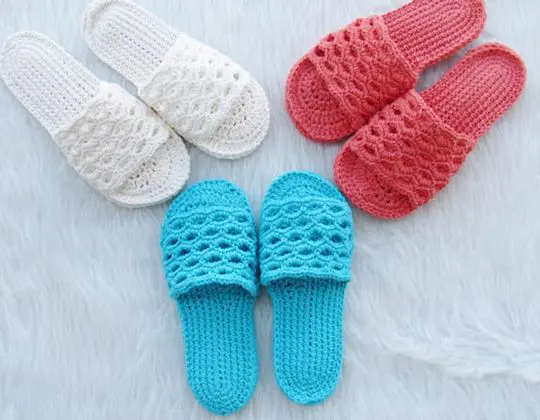 What makes these lacey slip-ons so special is the stuffing between the double-layered sole. You will feel like you are walking on clouds! They are the perfect pick for a lazy day inside.
Designer : Crochet Dreamz
Pattern Here: Spring Slippers
19
Mustache Slipper Socks
I mustache you a question….do you love these slippers as much as I do?! These tweed slipper socks pack a graphic punch with everyone's favorite facial hair- a mustache!
Designer : Repeat Crafter Me
Pattern Here: Mustache Slipper Socks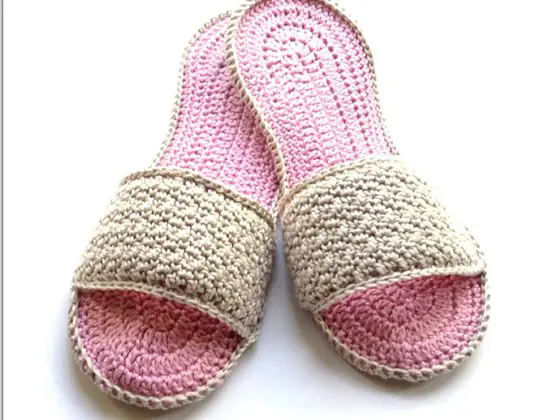 Pamper yourself with these day spa slippers and plan a day of self-care and relaxation. Migh t I suggest a bubble bath followed by doing your nails? You deserve it!
Designer : Annoo's Crochet World
Pattern Here: Day Spa Slippers
21
Knit-Look Twisted Clogs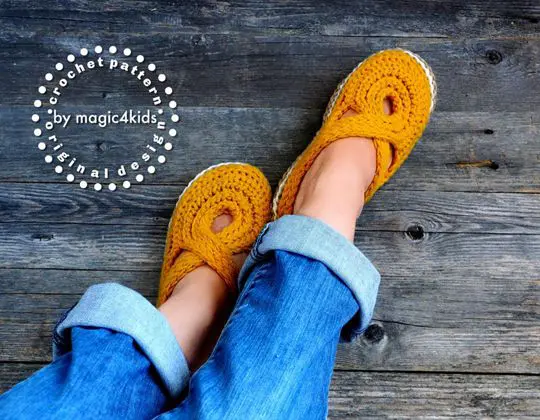 One reviewer says "Really fun pattern and super helpful seller went above and beyond the call. Will be back!" These eye-catching clogs feature a twisted design made with knit-look stitches.
Designer : Magic4Kids
Pattern Here: Knit-Look Twisted Clogs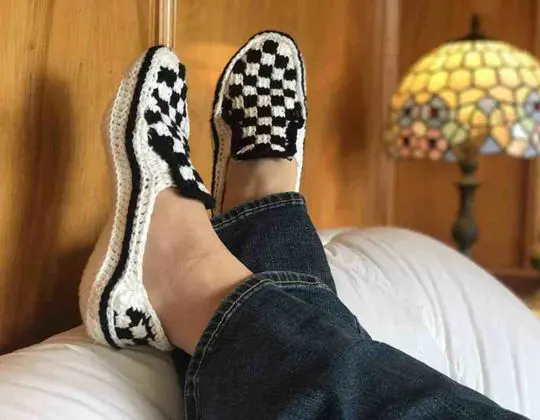 Embrace your inner 90s kid with these checkered slip-ons inspired by Vans. These slippers use tunisian stitches to make super clean color changes.
Designer : Stardust Gold Crochet
Pattern Here: Vans Sk8tr Slip-Ons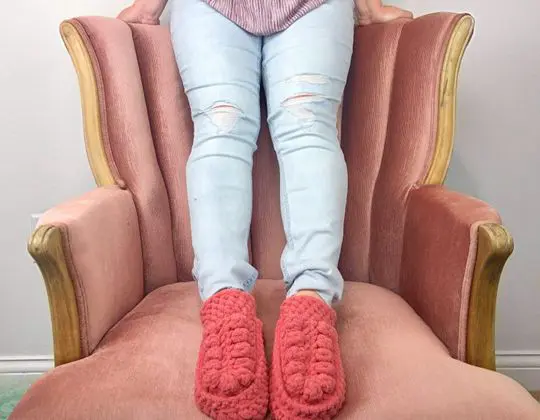 Blanket yarn isn't just for blankets anymore. These extra squishy slippers come in all sorts of sizes with tips for half-sizes and wider widths too!
Designer : A Crafty Concept
Pattern Here: Crafty Boho Slippers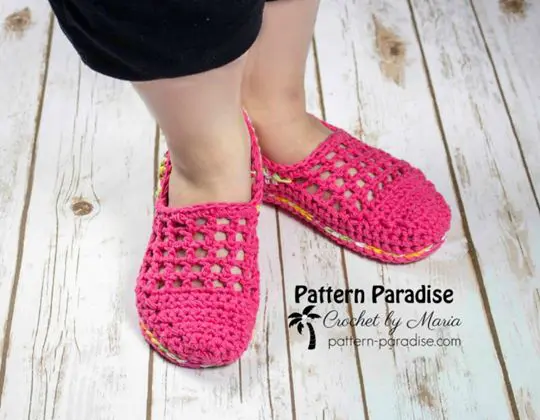 With a mesh design and super bright colors these jelly sandals scream summer. This free crochet pattern includes both men's and women's sizes, hooray!
Designer : Pattern Paradise
Pattern Here: Jelly Slippers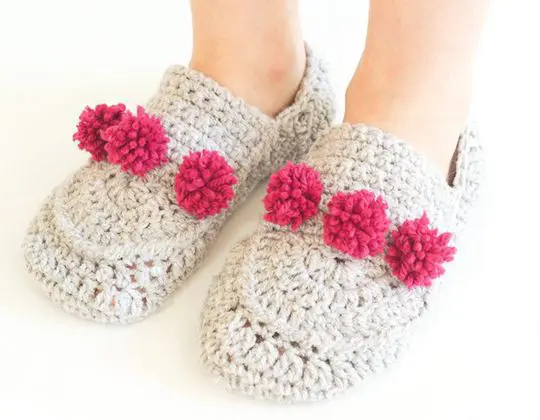 Eek! These pom pom slippers are so unexpectedly adorable. I would never have thought of this idea but I absolutely love it!
Designer : Stitch 11
Pattern Here: Mini Pom Pom Slippers
Thank you so much for reading! I hope you had as much fun reading this post as I did making it. If you need me I'll be crocheting ALL THE SLIPPERS! Haha seriously though, I can't get enough of these crochet slipper patterns. I really can't decide which one is my favorite. Which one is your favorite?! Let me know down in the comments below and remember to bookmark this page if you need a good idea for a last-minute gift!
---